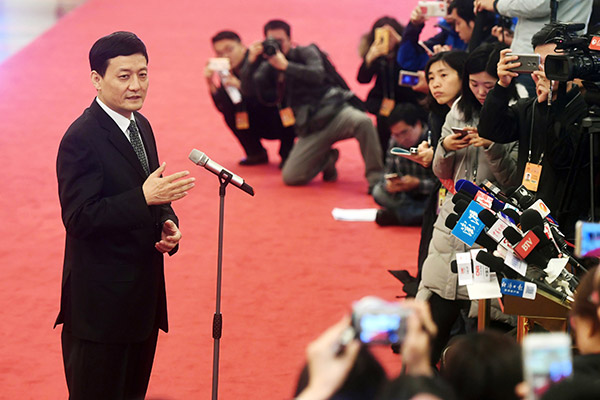 Xiao Yaqing, chairman of the State-owned Assets Supervision and Administration Commission, answers reporters' queries on the sidelines of the two sessions in Beijing. (Photo/Xinhua)
China's State-owned enterprises should avoid irrational investments and trade financing activities for achieving scale, said the head of the country's SOE regulatory body on Monday. [Special Coverage]
From now on, SOEs are "strictly prohibited" from such moves, said Xiao Yaqing, chairman of the State-owned Assets Supervision and Administration Commission.
SOEs' trade financing activities for scaling up their business volume may pose risks in terms of credit defaults, business fraud and loss of goods, he said.
A better way for central SOEs to ease their debt burden would be improved work efficiency, he said.
To lower risks in operations, SOEs should deleverage and reduce long-term debt, Xiao said, adding the commission will continue to strengthen the supervision of investments of SOEs and better manage their assets.
The SOEs' current corporate debts are at "safe and controllable" levels, according to him.
In 2016, all of the 102 central SOEs decreased their debt ratio by 0.1 percent year-on-year to 66.6 percent, with 12 of them lowering their asset-liability ratio to over 80 percent and four to over 85 percent.
Xiao referred to the restructuring of two major SOEs, China Railway Materials Co Ltd and Sinosteel Corp. "The asset-liability ratio has been lowered to below 70 percent."
His comments illustrate the government's resolve to boost SOEs' revenue from global markets via various measures, including introduction of mixed ownership and building asset management companies.
This year, the regulator will further press ahead with the supervision of investments of SOEs by shifting the focus "from managing the companies to managing their assets", said SASAC Vice-chairwoman Huang Danhua last week at a media conference during the National People's Congress annual meeting.
Last September, China launched its largest private equity fund, worth 350 billion yuan ($50 billion), to finance SOE restructuring through mergers and acquisitions, industrial upgrades and innovation.
The supervision of central SOEs' investment activities is, to some extent, caught in a dilemma, said Liu Shengjun, an economist at the Lujiazui Institute of International Finance.
"If the regulator exercises too much control on their investment plans, SOEs' systems will get interfered. However, without regulatory supervision, the companies may be exposed to more risks and lead to chaotic investment environment and loss of assets," Liu said.
Therefore, the regulator should take into account both SOEs' initiative in making investments and risk prevention, he said.
Data show central SOEs' revenue and profit have been growing, as the nation further deepens economic reforms.