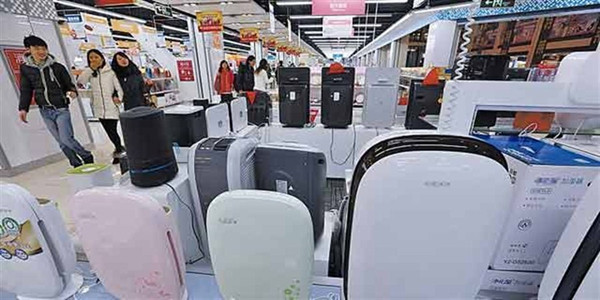 Photo/Shanghai Daily
Panasonic and Hitachi air purifiers failed standards on their purifying efficiency, the Shanghai Consumer Rights Protection Commission said.
The commission conducted a comparative test on the performance of 20 air purifying machines, whose prices ranged from 699 yuan (US$100) to 18,600 yuan and found some performed poorly on the purifying efficiency of particulate matter, sulfur dioxide and formaldehyde.
An air purifying machine made by Guangdong Panasonic Ecology Systems Co Ltd was found to have a clean air delivery rate (CADR) of 37 cubic meters per hour, compared with 47 cubic meters per hour as marked on the machine.
CADR indicates the purifying power of particulate matter, and is a major index of air purifiers, the commission said. China's national standard on air purifiers states that the CADR of air purifying machines should not be less than 90 percent of that claimed.
In addition, two air purifiers, branded Hitachi and Oion, and made by Wuyi Youdun Electrical Equipment Co Ltd in Zhejiang Province, failed in formaldehyde purifying efficiency, which should be no less than between 35 and 50 percent, as ruled by the relevant standard, said the commission.
In addition, some producers were found to have made misleading claims on their machines' functions.
The Oion purifying machine was marked to have a purifying space of up to 60 square meters, while tests showed the real applicable area of the machine's effectiveness was 11 to 19 square meters.
Businesses claimed their machines had such functions as automatically purifying 99.95 percent of tiny harmful particulate matters, filtering particulate matters as small as 0.02 micrometers, and the purifying effect of sulfur dioxide being above 99 percent, which all turned out to be false, the commission said.
Among the 20 purifiers, one branded Austin Mecent had the worst clean air delivery rate.