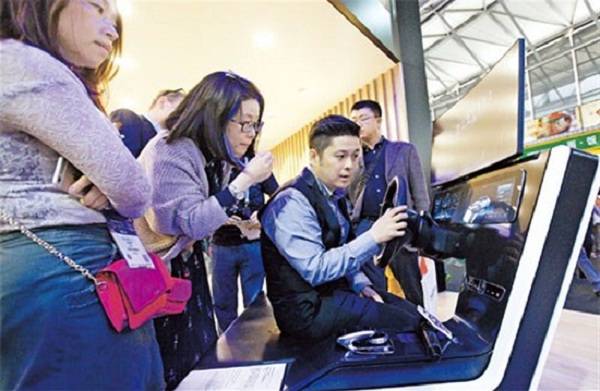 Visitors are attracted by a system for smart connected vehicles at the CES Asia 2016, which opened in Shanghai yesterday. The show ends tomorrow. (Photo/Xinhua)
The auto industry is turning what is traditionally considered a show for consumer electronics on its head by displaying smart connected mobility services that Chinese consumers value highly.
The auto industry is taking up one out of the four exhibition halls at the CES Asia 2016 that opened yesterday in Shanghai to show off a more digital image once seen only in fiction and movies.
OnStar of General Motors presents a vision of on-the-way smart home management enabling in-vehicle remote control over home appliances.
BMW hangs up a "magic mirror" that functions as an user interface for private secretarial services to plan transport, and also a valet service for autonomous car pickup from garage.
Volvo demonstrates the industry's first commercial in-car delivery service, which can use a car's trunk to drop off packages through transmission of a time-limited digital key to the carrier.
Mercedes-Benz shows a car2x communication platform over the cloud to let cars talk to each other for real-time safety warnings and travel tips.
These Internet-enabled vehicle services called telematics are playing an increasingly important role in the vehicle purchasing decisions of Chinese consumers' according to consulting firm Accenture. Its latest consumer survey around the world shows the Chinese are willing to pay 15-16 percent above a car's price for telematics services. Such strong consumer interest will create a telematics industry worth US$216.2 billion by 2025 in China, said Axel Schmidt, managing director of Accenture.
Auto technology supplier like Chinese company Navinfo combines its strength in mapping expertise together with real-time updates of charging facility availability.