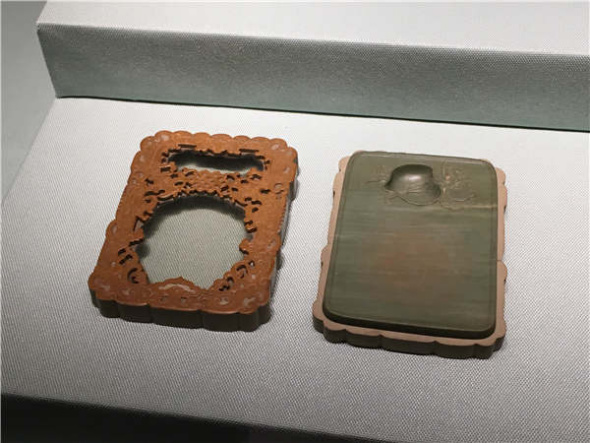 Qing emperors' inkstones are among artifacts at new exhibitions in the Palace Museum in Beijing. (Photo provided to China Daily)
"We previously categorized them into time periods by analyzing their artistic styles," Lyu says.
"But we realize we have to re-examine this approach as we study more samples unearthed in Jingdezhen."
Palace Museum director Shan Jixiang says: "The museum is an important platform to introduce recent archaeological achievements to the public."
New findings are being made as the museum categorizes its inventory.
The Selected Qing Court Inkstones from the Palace Museum Collection that opened in the Gate of Devine Prowess (Shenwumen) Gallery on International Museum Day is the first exhibition devoted to royal inkstones, the mortars used to grind ink for writing with brushes. The exhibition will run through July 29.
About 140 inkstones in the exhibition show the tastes of different Manchu emperors.
Exhibition curator Zhao Lihong says, "As a kind of stationery, the inkstones show Qing emperors' attitudes toward literary culture and their inclination to get along with Han people.
"Indeed, emperors like Qianlong (1711-99) engaged with Han culture and understood it in depth."
Qianlong wrote poems on almost every inkstone he collected.
The major hubs for inkstone production in China, like today's Anhui and Guangdong provinces, gave their finest pieces to the imperial court. But the rulers weren't satisfied.
Artisans of the court's imperial studio studied old collections to develop new formats.
"Emperors typically personally participated in inkstone design," Zhao says.
Some were designed with heaters to thaw frozen ink during winter.
"Qianlong also experimented with mixes of soil and stones from different parts of China to create the best raw materials," the curator says.
"Sometimes, he even ordered the production of 'counterfeit antiques'."
For example, an exhibited piece from Qianlong's reign was marked with the name of Su Shi, a prominent member of the Northern Song Dynasty's literati. Patinas were deliberately added.
The exhibition also displays rarely seen jade inkstones.
Another signature material of the Qing's royal collections are precious Songhua Stones.
The story goes that Qianlong's grandfather, emperor Kangxi, discovered the stone variety when visiting a region near northeastern China's Songhua River, during a trip to pay homage to his ancestors.
The area is believed to be where Manchu people originated from.
"Kangxi then wrote a passage venerating the stone to show his affection for this lesser-known treasure," Zhao says.
"It's also a metaphor to show his inclusiveness of talented individuals, irrespective of their ethnic group."