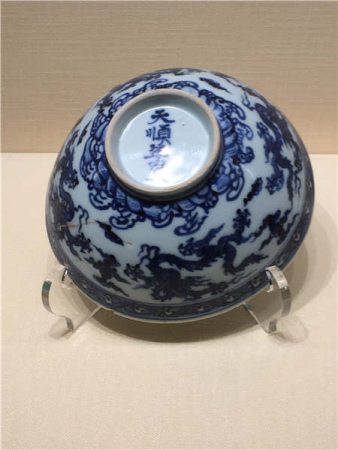 A Ming Dynasty porcelain from the reign of Tianshun is among artifacts at new exhibitions in the Palace Museum in Beijing. (Photo provided to China Daily)
"One possible explanation is that emperors were unwilling to leave the information on porcelain because of continuous social upheavals," Lyu says.
Zhu Qizhen - the sixth Ming ruler, who's also known as Emperor Zhengtong - was taken by Mongols as a war prisoner during a military expedition. His younger brother, Zhu Qiyu, or emperor Jingtai, then assumed the throne.
But Zhu Qizhen returned to Beijing eight years later, reclaimed the crown and imprisoned his brother. His second reign was called Tianshun.
Only top-quality items were allowed in the Forbidden City during the Ming Dynasty.
Porcelain pieces with slight defects were broken and buried in the kiln.
This left a massive amount of abandoned pieces in Jingdezhen.
"We can determine when these pieces were produced based on the soil layers in which they're found," Lyu says.
"We have a vague understanding of these items. So the period isn't actually 'blank'."
Lyu says recent research suggests porcelain from this time testifies to high standards of production.
He mentions an 80-centimeter-high blue-and-white water container with a 70-cm diameter that's being restored from broken pieces.
"It's grand," he says.
"We've never found such a large piece from other periods of the Ming Dynasty."
The Forbidden City experienced a massive fire in 1421, one year after it was completed.
The inferno destroyed all three major palaces of the outer court. Reconstruction was completed during the reign of Zhengtong.
Lyu says the emperor first wanted to produce porcelain tanks to hold water in case of fires.
But creating such large porcelain pieces proved too difficult. Copper was used instead. Now, these containers are commonly seen in the Forbidden City today.
The museum's collection of porcelain pieces without time stamps posed a challenge to researchers.