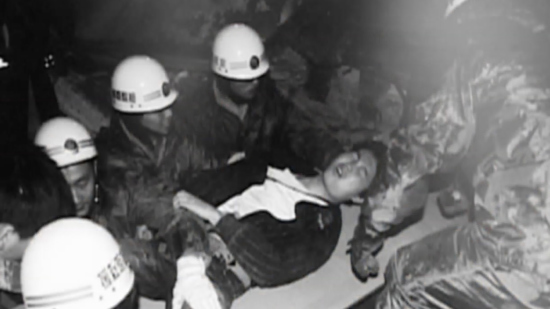 Dai Guohong was stuck under the rubble for two days after a magnitude-8 earthquake struck Sichuan in 2008. / Photo courtesy of Sichuan Radio and Television
It's easy to forget that Dai Guohong is a lower-limb amputee. The sturdy 28-year-old former para-swimming athlete is cheerful and talkative – you never have to worry about running out of things to say with him, and almost every exchange of conversation ends with a loud laugh. The only time I was reminded of his disabilities was when we took a stroll in the park, his strong arms spinning the wheels forcefully, leaving me behind, then looking back, expecting me to catch up.
Ten years ago, Guohong was a high school student in Beichuan County in southwest China's Sichuan Province, preparing for his college entrance exams. May 12 started as just another ordinary school day.[Special coverage]
And then it wasn't.