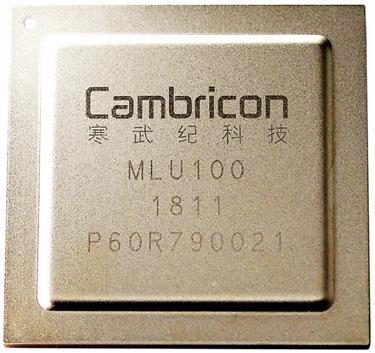 MLU100 processor, the latest AI chip developed by Cambricon (Photo/shine.cn)
Cambricon Technologies Co, a Lingang-based AI chip producer, debuted two processors recently to support cloud computing under complex scenes and further improve users' experience.
Cambricon 1M is designed for terminals and Cambricon MLU100 is meant for cloud computing which supports all kinds of deep learning and machine learning algorithms.
The MLU100 processor can fully satisfy the vision, voice, natural language processing and demand of intelligent cloud computing under complex scenes, such as data mining and other fields, which could involve large data volume, multi-task, multi-mode, low latency and high throughput.
The cloud chip supports "deep learning" or neural networks that mimic human learning. Deep learning is machine learning involving algorithms that can analyze data, recognize patterns and make predictions.
The two processors, particularly the MLU100, will greatly improve computing efficiency which enables IT products and service providers to offer better solutions for users.
Cambricon's business pals also issued their latest products based on MLU100 processor. The ThinkSystem SR650, a cloud intelligent server by Lenovo with MLU100 processor, will support business requirements in machine learning, VDI, virtualization, cloud, database, analysis and SAP.
Sugon, a Chinese IT products and services provider, unveiled its latest product of Phaneron series which adopts MLU100 processor.
Sugon also disclosed a Sothis AI platform it develops, which could seamlessly dock Cambricon processors and deeply integrated with Cambricon's developing environment.
Cambricon's processor enables local terminals such as mobile phones to cope with more complicated machine learning algorithms, which could help software enterprises like iFLYTEK to improve users' experience.
Cambricon raised US$100 million in its A-round funding last August. Investors included SDIC Venture Capital with support from Alibaba Capital Partners, CAS Investment Management Co and Turing.
The startup is founded by two brothers who are research fellows at the Chinese Academy of Sciences' Institute of Computing Technology. As a unicorn in industry, Cambricon released the world's first commercialized neural network processor, the 1A, in 2016.