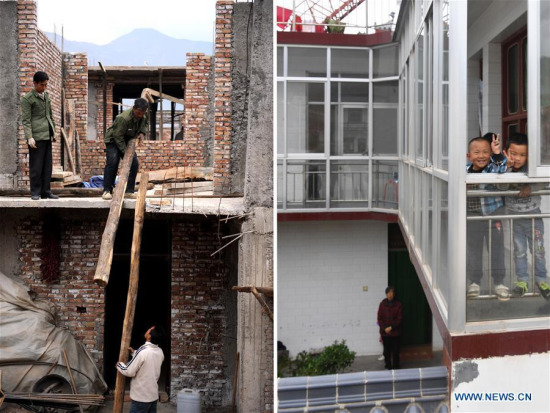 Combo photo shows villagers working at the construction site of a new house on Nov. 21, 2008 (L) and children playing at home on May 9, 2018, in Gan'en Village of Longnan City, northwest China's Gansu Province. Gan'en Village is a new village built to relocate villagers of Haoping Village, which was badly damaged by the 8.0-magnitude 2008 Wenchuan earthquake in neighboring Sichuan Province. (Xinhua/Nie Jianjiang, Fan Peishen)
China has one of the most serious earthquake damage statistics and casualty rates in the world, with earthquakes occurring in the country characterized by wide distribution, large magnitude and shallow focus.[Special coverage]
Over the past century, China has experienced 0.6 earthquakes of above 7-magnitude, 3.8 earthquakes of above 6-magnitude, and 20 earthquakes of above 6-magnitude per year on average, more than 95 percent of which were shallow-focus.
Earthquakes resulting in death tolls exceeding 200,000 have occurred 4 times, including the 7.6-magnitude Tangshan earthquake in 1976 when 242,769 people died, 164,000 seriously injured and direct economic losses were more than 10 billion yuan. The Wenchuan earthquake in 2008 killed 69,227 people, left 374,643 injured, and resulted in a direct economic loss of 845.1 billion yuan.
In the face of such a complicated and severe earthquake situation, the Chinese Government recognized the tremendous need and attached great importance to establishing professional and social multilevel earthquake emergency search and rescue (SAR) teams after the Wenchuan experience.
China revised its Law of the People's Republic of China on Protecting Against and Mitigating Earthquake Disasters and National Contingency Plan on Earthquakes after Wenchuan, requiring the State Council and levels of government to establish SAR teams for earthquake disasters.
Since then, China has established a system of emergency teams at the national, provincial, city and county levels that relies on the military, armed police, fire brigade, and the State Administration of Work Safety. The system was subsequently expanded from 27 teams to more than 80 (constituting 12,000 people) by the end of 2015.
Most provinces (municipalities) have established at least two provincial-level earthquake emergency SAR units in collaboration with a fire brigade or armed police force; city and county-level rescue teams and non-governmental organization (NGO) rescue teams also developed rapidly. These teams all played key roles during the Wenchuan, Yushu, and Lushan earthquakes as hazard response units and thereby minimized the loss of life and property.
The national-level system of earthquake SAR teams, which is alternatively known as the China International Search and Rescue (CISAR) team, was founded in 2001. It was led by the State Council, which was comprised of 220 personnel in the beginning and expanded to 480 employees following the Wenchuan earthquake. Among them, the search and rescue personnel accounted for the largest proportion, reaching about 300 staff. CISAR passed its external classification test, reached the heavy level in 2009 and passed its reclassification in 2014.
The structure of a standard team with 92 personnel for engaging in an international search and rescue operation can conduct operations simultaneously over 24 hours at two separate worksites for up to ten days. Since the national earthquake SAR team was established, it has engaged in 10 international and multiple domestic missions including the 2008 Wenchuan earthquake.
At a provincial level, 12,000 people are incorporated throughout more than 80 earthquake SAR teams, all of which had been established by the end of 2015, and each team consists of anywhere between 50 and 400 members. With funding from the provincial government, most provinces (municipalities) have established at least two provincial-level earthquake SAR teams in collaboration with a fire brigade or armed police force.
To normalize the team management hierarchy and enhance the abilities, the CEA initiated external classification work on the earthquake SAR teams beginning in 2016 and planned to form a nationwide earthquake search and rescue team external classification system in five years.
The Gansu Provincial Team I and the Fujian Provincial Team I passed their respective provincial heavy-level external classifications in Oct. 2016 and Mar. 2017, respectively. External classifications for five provincial teams – the Inner Mongolia Autonomous Region, Hebei Province, Liaoning Province, Fujian Province, and Yunnan Province – are scheduled to be completed in the near future.
City and county-level earthquake search and rescue teams have been substantially expanded relying on the local military, armed police, fire brigade, and State Administration of Work Safety on the basis of principle No. 59 (i.e., concerning the enhanced construction of basic-level emergency teams) from a 2009 document issued by an office under the Ministry of the State Council after the 2008 Wenchuan earthquake.
City and county-level earthquake search and rescue teams are supervised by the local government, which is usually responsible for local emergency rescue tasks involving earthquakes, forest fires, meteorological hazards, and mine accidents, among others.
NGOs also have a role to play as sole dependence upon professional SAR teams during a large-scale earthquake would be insufficient, and rescue and assistance efforts will be required from all sectors of society.
To conclude, since the 2008 Wenchuan earthquake, China has expanded its SAR capacity rapidly. Owing to the lack of standards for constructing teams, the structure of teams at all levels is different, and the SAR capability remains uneven. In order to guarantee the teams' SAR ability, they must be qualified and it is very important to promote the national SAR accreditation to intensify the management of rescue teams and establish and improve the mechanisms for long-term assessments and comparisons.
(Chen Hong and Xu Aihui are from the Institute of Crustal Dynamics of China Earthquake Administration and Wang Wei is from the Institute of Engineering Mechanics of the China Earthquake Administration. The article reflects the authors' opinions, and not necessarily the views of CGTN.)