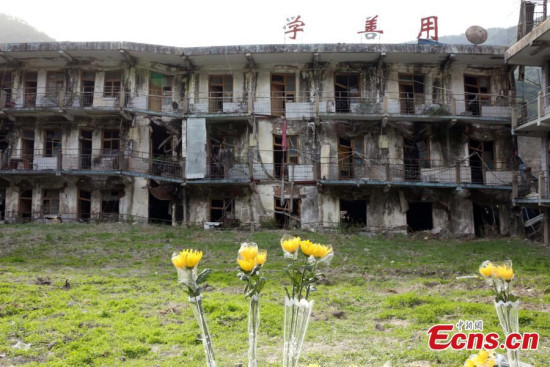 A view of the ruins of the former site of the Beichuan County after the Wenchuan Earthquake on May 12, 2008 in Sichuan Province. (Photo: China News Service/Ren Haixia)
China has been putting great effort into developing early earthquake warning systems since the 2008 Wenchuan earthquake in southwest China's Sichuan Province that took nearly 70,000 lives.[Special coverage]
The Institute of Care-Life in Chengdu, the provincial seat of Sichuan, announced earlier this month that it would provide early earthquake warnings via television to an additional five million people in 11 cities and counties in the province.
The system can transmit a warning seconds after an earthquake occurs through radio waves (300,000 km/s), which travel much faster than seismic waves (3 to 6 km/s).
Along with a visual and vocal countdown, the warning will appear on all TV screens in ranges, seconds to tens of seconds before seismic waves hit the area. These few seconds could gain more chances for people to escape from the disaster.
Up until now, 40 destructive earthquakes were subject to early warning under the system. In August 2017, TV viewers in Wenchuan and Chengdu saw an early earthquake warning 40 seconds before seismic waves from the Jiuzhaigou earthquake in Sichuan arrived.
Together with TV viewers in Beichuan and Maoxian counties in Sichuan, those in Wenchuan started benefiting in 2012 from early warning services on TV, according to China Daily.
However, people in the epicenter couldn't benefit from the system because seismic waves will reach the ground above the epicenter and cause damage instantaneously, leaving no time for the system to react. Currently, the dead zone is the area within 20-30 km radius of the epicenter, said Geng Qingguo, seismologist of Chinese Geophysical Society.
During the past decade, the early earthquake warning network has extended to 31 provinces, municipalities and autonomous regions in China, covering 2.2 million square kilometers and benefiting 90 percent of the people living in earthquake zones. It is considered the world's largest early earthquake warning network.