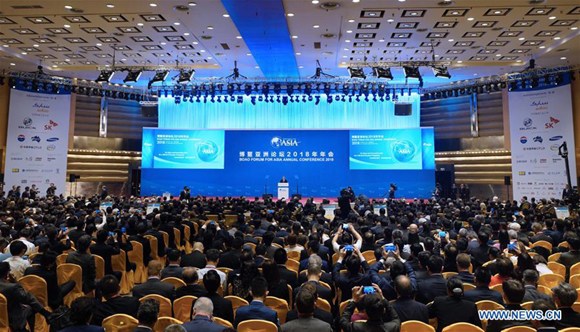 The opening ceremony of the Boao Forum for Asia (BFA) annual conference is held in Boao, south China's Hainan Province, April 10, 2018. (Xinhua/Xing Guangli)
President Xi Jinping delivers a keynote speech at the opening ceremony of the Boao Forum for Asia Annual Conference 2018 on Tuesday. [Special coverage]
The conference runs from April 8 to 11 in Boao, a town in South China's island province of Hainan, and is themed "An Open and Innovative Asia for a World of Greater Prosperity."
Here are the highlights of the speech.
GDP growth
Over the past 40 years, China's GDP has averaged an annual growth rate of around 9.5 percent in comparable prices, Xi said.
The country's foreign trade has registered an annual growth of 14.5 percent in US dollar, Xi said.
Poverty relief
"The Chinese people have emerged from a life of shortages and poverty and are now enjoying abundant supply and a moderately prosperous life," Xi noted.
According to current UN standards, more than 700 million Chinese people have been lifted out of poverty, accounting for more than 70 percent of the global total over the same period, he said.
Valuable "Boao proposals"
With a focus on Asia and a global perspective, the Boao Forum for Asia has hosted active discussions and produced many valuable "Boao proposals" since its inception, Xi said.
The "Boao proposals" have helped build consensus in Asia, encourage cooperation, promote economic globalization and advance the building of a community with a shared future for mankind, said Xi.