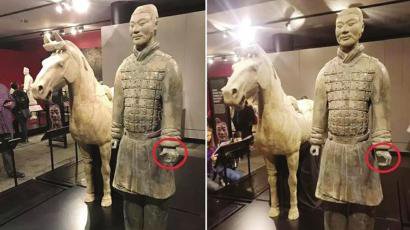 The thumb of a 2,000-year-old terracotta warrior was stolen while on display at the Franklin Institute. (Photo provided to China Daily)
The city government of Philadelphia has officially apologized in writing to China for a terracotta warrior statue that was damaged while being displayed at the city's Franklin Institute, reports China Central Television.
A thumb of the statue was broken off and stolen in December 2017 by 24-year-old Michael Rohana, who reportedly attended a party held at the institute on Dec. 21, when he made his way into the museum's special exhibit "Terracotta Warriors of the First Emperor." The incident caused strong discontent from the public about the institution's dereliction of duty and drew global attention.
The City of Philadelphia has recently passed a resolution to officially apologize for the damage. The resolution has been submitted to the Chinese Consul-General in New York and was forwarded to the Shaanxi Cultural Heritage Promotion Center on April 5. Michael Rohana is currently released on bail and is expecting to serve a maximum of 30 years in jail after trial.
David Oh, Councilman of Philadelphia, noted that although the government has no right to supervise private museums, he would continue to call on better protection of and respect for foreign cultural relics and bilateral friendships.
The terracotta warrior statue was created around 209 B.C. as one of the roughly 8,000 life-sized statues of terracotta soldiers made to protect the tomb of Qin Shihuang, better known as the first Emperor of China.