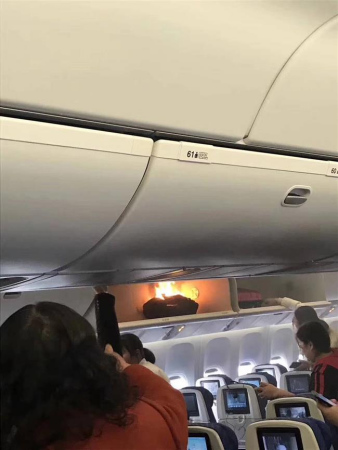 The baggage burst into flames with heavy smoke when passengers were getting onboard around yesterday noon on the China Southern Airlines flight from Guangzhou to Shanghai. (Photo/shine.cn)
An overhead compartment inside a China Southern Airlines aircraft caught fire yesterday before it took off from Guangzhou to Shanghai.
The blaze, suspected to have been triggered by a portable charger in a luggage of a passenger who had already boarded, was put out soon after the heavy smoky flames started just as passengers were boarding the Boeing 777 aircraft around noon for their flight CZ3539 from Guangzhou to Shanghai's Hongqiao International Airport. No one was injured. China Southern said in a statement.
A video taken by one of the passengers showed a flight attendant and a foreign passenger throwing two bottles of water and a bottle of juice onto the burning baggage. They managed to distinguish the fire.
The charger was not in use when the fire started. Police have taken the passenger for further investigation, the airline said.
No further damage was caused to the aircraft but the airline changed aircraft and crew for the flight which took off at 3:11p.m after a three-hour delay. The flight landed at Hongqiao airport around 5:30 p.m.