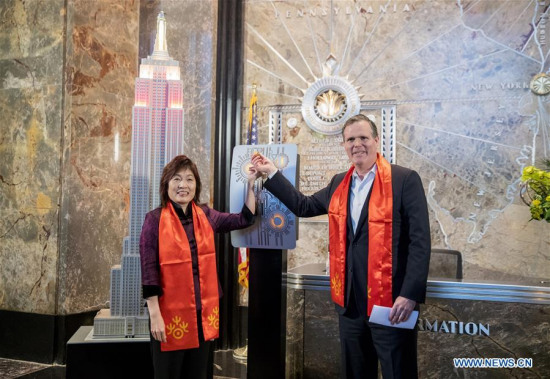 Chinese Consul General in New York Zhang Qiyue (L) and John B. Kessler, President of the Empire State Realty Trust, flip the switch to light the model of Empire State Building at a ceremonial lighting ceremony in honor of the Spring Festival at the Empire State Building in New York, the United States, on Feb. 13, 2018. (Xinhua/Wang Ying)
The top of the Empire State Building in Midtown Manhattan, New York, shined in red and gold at sunset on Tuesday to celebrate the Chinese Lunar New Year that falls on Feb. 16 this year.[Special coverage]
Chinese Consul General in New York Zhang Qiyue, together with John B. Kessler, president of the Empire State Realty Trust Inc., flipped the switch to light the model of Empire State Building on Tuesday at a lighting ceremony in honor of the Spring Festival.
Delivering her speech at the ceremony, Zhang said that the Spring Festival is not only the most important holiday for the Asian and the Chinese communities, it is also a very important holiday for New York.
"As this week, all public schools are starting their lunar new year holiday, I believe that all parents and children are really very happy to have a week off to celebrate the lunar new year," she said. "So we hope everybody will have a very happy and prosperous year."
For years, the Empire State Building and the Chinese Consulate General in New York "have carried out a friendship that we greatly treasure. We are thrilled to continue this beloved tradition and look forward to many more years of celebration ahead," Kessler said in his opening speech. "May this Year of the Dog bring you all health and happiness."
Scheduled to be launched on Tuesday and Thursday, the lighting scheme is created by the Fantastic Art China and China Central Academy of Fine Arts.
A window display of the Year of the Dog designed by China Arts and Entertainment Group was also installed in the lobby windows on the Fifth Avenue.
The Chinese Lunar New Year is the biggest Chinese celebration of the year and celebrations traditionally continue for at least 15 days.
In Chinese culture, Feb. 15 of 2018 marks the end of the Year of the Rooster and people will embrace the Year of the Dog. The dog is a symbol of loyalty in China.
Soaring 1,454 feet (about 443 meters) above Midtown Manhattan, the Empire State Building was named America's favorite building in a poll conducted by the American Institute of Architects, and the Empire State Building Observatory is one of the world's most beloved attractions as the region's top tourist destination.
Since 1976, the Empire State Building's tower lights have maintained a tradition of changing color to recognize various occasions and organizations throughout the year. New York state has added the Spring Festival to the list of public holidays since 2014.