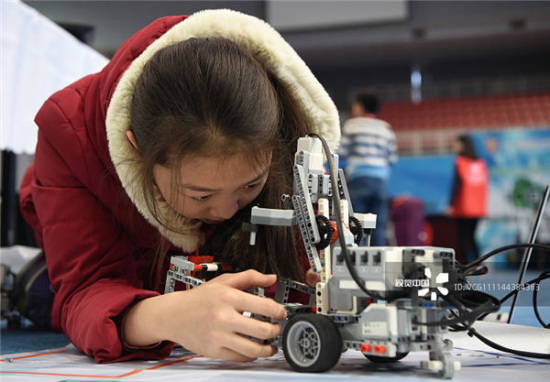 A competitor debugs a robot during the Roborave Asia 2018 held in Beijing. [Photo by Hou Yu/China Daily]
To better attract young viewers, the show is also banking on some star attractions - actors Li Chen, Lin Gengxin and Sheng Yilun; as well as actress and fashion icon Angelababy, also known as Yang Ying, will be invited to join the teams.
While the four celebrities are all fans of computer games, they are new to the machines, which weigh at least 110 kilograms each. Unlike the privileged position of coach or judge offered in other reality shows, they will have to rely significantly on other players for help to control the robots.
"When you control a robot, it's like adopting a child," Lin says. "Emotional links have to be nurtured between me and the robot. I can only play better after that."
"Some people may think that playing with these robots is only for men," Angelababy adds. "I don't think so. Gender doesn't matter and I've met many talented female players here.
"It's more about brains and agility than physical strength. We're at the same starting line."
In the flesh
The production team also wants to give equal play to ordinary competitors, to allow them to tell their stories. Most of them are simply interested in machinery - students, blue-collar workers or farmers - who became diehard fans of robot combat.
Zhao Lixin, a veteran actor for both stage and cinema, is the anchor for Clash Bots. He cites the Welsh team Princess of Wales, comprising a 12-year-old girl and her father, as an example. The girl, the youngest participant of Clash Bots, showed great creativity and talent by designing a pink, dragon-shaped shell for her robot, he says.
Combating a robot called Atomic Bomb, Princess of Wales was soundly beaten and the girl was devastated. But Atomic Bomb circled around the "pink dragon" and chose not to give it a final death blow.
Zhao asked the player controlling Atomic Bomb later why he stopped attacking his opponent.
"The player told me that because he found the father comforting his daughter, it would seem too cruel to topple it (Princess of Wales)," Zhao recalls. "He felt that participating in the game was like a gift given by the girl to her father, and she deserved some space to keep her dignity.
"At that moment, I understood what robot combat was about. Not just about fierce fights, but also the warmth and gentleness from kind hearts," says Zhao.
Yang, the TV commentator, considers the program to be a good attempt at broadening the appeal of combat robots, by adding more content that draws out people's emotions and to understand the competitors through their personal stories.
But focusing on the battles is still key, he says, because the robots are the main stars of the arena.
A robot must fight up to 19 game sets before it can win top spot but the machines will almost certainly not get through more than five sets before it needs major repairs, or be totally remade, he says.
"That will definitely add to the challenge," Chen says.
A smartphone game, online drama series, movie and theme park will also be developed from Clash Bots soon, he adds.
Perhaps even a machine hero like the tenacious boxer Atom in Real Steel, a 2011 Hollywood film starring Hugh Jackman, will rise in Chinese cyberspace later this year.
The producer also expects his upcoming show to trigger young people's aspirations for Chinese manufacturing. While the custom-made steel in robot combat can be produced in China, Chen confesses that many competitors prefer foreign electric engines for better stability and control.
"China is still lagging in some industry sectors," he says. "If the game becomes popular and more people get inspired by it, our technology will probably also improve."