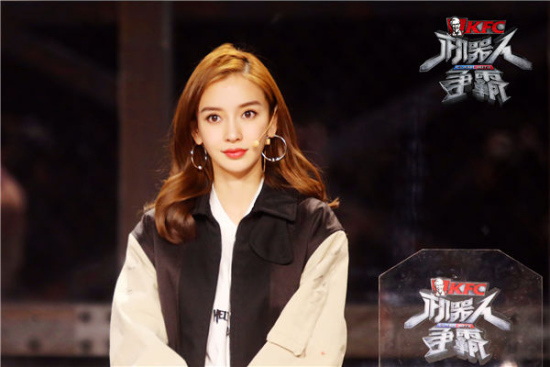 Actress Angelababy is among competitors of Clash Bots, an upcoming reality show on iQiyi. [Photo provided to China Daily]
Machine battle reality show set to make debut.
The fighting arena weighs up to 230 tons, boasting bulletproof glass that can withstand the blast of a bazooka and reinforced steel protective plates.
Visitors are repeatedly reminded not to take photos, adding to the secretive nature of the surroundings.
But this is not a military base or sci-fi movie set - the studio on the southern outskirts of Beijing is actually the site of Clash Bots, an upcoming reality show featuring battles between robot combatants.
More than 30 teams of up to four people each from home and abroad are gathering for the program by iQiyi.com, one of China's major video-streaming media platforms.
While the show is set to go online in March, its producers are still keeping most of the details under wraps. But there are clear similarities with US TV series BattleBots, in which competitors design and operate remote-controlled armed and armored machines to be top gun in battles lasting three minutes.
Still, Chen Wei, vice-president of iQiyi and chief producer of Clash Bots, wants to develop something new for Chinese audiences, many of whom have little knowledge of what the games are like.
The Chinese arena, for one, is said to be larger than its US counterpart.
"I'm only a few months earlier than the general public in China to really know what robot combat competition is about," Chen says, smiling. "But it's worthwhile to have a shot because the game can help showcase young people's struggles and their energy."
In April 2017, when Chen's team first contacted the US side to express interest in the show, those in the West had their doubts. "Do you have robot combat in China?" one of them asked.
Chen himself was surprised to find out there were already dozens of teams ready for robot combat all over China.
"Robot combat may have decades of history in the United States and Britain," Chen admits. "But we don't want to copy others' established models."
BattleBots in the US premiered in 2000 but it was suspended in 2002 after five seasons amid changes in audience tastes. But when its sixth season returned in 2015, Chen says its audience ratings rocketed and revived huge interest in the sport again.
Gearing up
IQiyi is not the only one to ride the revival. Zhejiang TV first aired a similar show, King of Bots, in January. Youku.com, another main Chinese video-streaming media provider, is also set to roll out its This Is Bots program later this year.
King of Bots has a format close to the US show. Its crew has invited action superstar Jet Li as the guest and Huang Jianxiang, one of China's best-known sports anchors, as the commentator.
The first episode of the show, which offers a quick pace and fierce fighting scenes, received a modest 0.3 percent audience rating, according to statistics from media research group CSM.
"Women still dominate Chinese audiences in variety shows," Yang Zhifan, a Beijing-based TV commentator, wrote in an article in January.
"It'll take time for female audiences to get used to combat robots in China."
Yang considers Kings of Bots to be a "good beginning" and he expects upcoming shows like Clash Bots to develop more diverse and expressive formats.
Chen from iQiyi is certainly confident of creating new genres for Chinese variety shows.
"It's easier to organize a competition," he says. "But a reality show needs more stories, which can also be the more interesting part."
Chen reveals that cameras in Clash Bots will also be placed in competitors' room to offer a closer look at how they design machines, draw up combat strategies and size up opponents. The players are like the characters in storylines who take on different roles so that people can become more attached to them, he says.