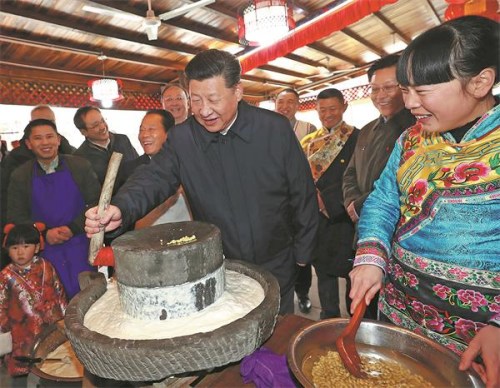 President Xi Jinping, tries cooking fried pork at a restaurant in Yingxiu, Wenchuan county, Sichuan province on Monday. Xi said illiteracy and other obstacles will be thwarted by education and cleanliness. Ju Peng/Xinhua
While tens of millions of Chinese are heading home for the Lunar New Year holiday, President Xi Jinping is visiting the homes of villagers in southwest China's Sichuan Province about 2,000 km from Beijing.[Special coverage]
The message is clear: On the nation's way to building a "moderately prosperous society" by 2020, not a single family or individual should be left behind.
During his Sichuan tour, Xi, wearing a thick green coat, paid a visit to families of the Yi ethnic group living in a mountainous area and discussed poverty alleviation with local officials and villagers. He went to Zhanqi Village in suburban Chengdu City to see their achievements in using the Internet to help sell local products. He also observed the changes that have taken place over the past 10 years in Yingxiu, Wenchuan County, the epicenter of the 8.0-magnitude earthquake that killed more than 80,000 people on May 12, 2008.
The week-long Lunar New Year holiday, starting on Thursday, is the most important in the Chinese calendar. It is a time when millions of families get together and make wishes for the future. Xi's tour has sent a strong signal about the leadership's signature policy and has come as a big push for efforts to eliminate poverty, a "ghost" that has lingered over the nation for thousands of years.
China has lifted more than 66 million people, about the population of Britain, out of poverty over the past five years -- a miracle in human history. The country still had around 30 million people living below the national poverty line at the end of last year. There must be better support and more effective measures.
Xi, also general secretary of the Communist Party of China (CPC) Central Committee, has put himself on the frontline. During the past five years, he has inspected almost all of the country's neediest regions.
The trip to mountainous Liangshan Yi Autonomous Prefecture on Sunday came about a year after he remarked that it was heartbreaking to read about Sichuan villagers who must climb dangerous mountains every day.
Xi's tour was far more than a trip. The leadership's arrangements and instructions during the tour will serve as guidance for the central and local governments to do more.
Infrastructure will be improved. More training programs will be held to help villagers find jobs. Reform measures will be taken to root out the causes of poverty. The affluent eastern regions of the country and central government departments will allocate more resources to poverty-stricken areas, an advantage of socialism that could concentrate resources and accomplish big things.
The drive will not stop until the day when the last person living in poverty finds his or her rightful place as a member of a well-off society.
China is still a developing country. Its per capita GDP stands only at the middle of the world rankings. And the Chinese government knows clearly the difficulty of winning the battle against poverty.
But once the government makes the promise, it takes real actions. These actions are the reason China believes that poverty is a foe that can be defeated.