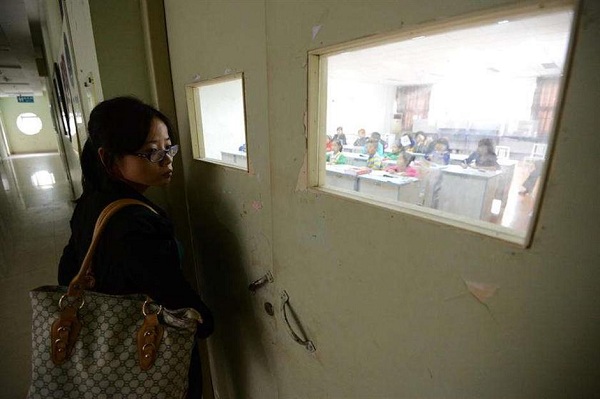 A mother waiting outside classroom keeps an eye on her child. (SHINE)
Returning home from work at 7pm every evening, 36-year-old Wei Liqiu feels her day is just beginning. After dinner, she would have to deal with her 10-year-old son's homework, reply to the teacher's messages and prepare his school stuff for the next day.
The routine began when the boy entered primary school three years ago. Wei can't even rest at weekends because she has to send him to training schools and attend classes with him.
"It seems I don't have time to stop and catch my breath," Wei says. "And I feel bad for my son too as I think he shoulders much larger pressure than I could imagine."
Wei's mindset is not unique among parents who worry about the academic pressure their children are under, but that worry may be misplaced, according to a recent study by the Shanghai Academy of Social Sciences.
Its survey of 8,000 families in the city showed that parents are actually more anxious about their children's study than the children themselves.
"Children have their ways of releasing stress that parents might not aware of. Procrastination or even just being absent-minded while doing homework is among their coping methods," Yang Xiong, director of the academy's Juvenile Study Institute, told a recent forum in the city on children's lifestyles.
The anxiety stems from too high expectations, Yang says. For example, half the surveyed parents hoped their children's scores could beat 95 percent of their classmates, while 90 percent of parents hoped their children would gain at least a bachelor's degree.
The survey also revealed that fathers are happier about parenthood than mothers.
"Probably it is because mothers have a stronger biological bond with the children," says Yang. "Therefore, mothers usually have more expectations for the future of the children than fathers, and they would be more worried and anxious."
Wei is a typical example. A graduate from Shanghai University and working as a saleswoman, she believes her child needs to be at the top of the class in primary, junior and senior high school, or he wouldn't be able to go to a better university than she did.
"I didn't do well during my school years and I hope that my son wouldn't repeat my failure," she says.
Wei's husband, who works for the same company as Wei, is more easygoing about his son's education.
"He believes teachers should take full responsibility for children's study," says Wei. "He doesn't care about how our son's homework is done, and we've had several fights about it."
Wei says that from time to time she suffered some symptoms of anxiety, such as insomnia and rapid heartbeat, but she never went to the doctor.
Parents with a higher educational background and a more successful career are not free from such anxieties, either. The survey showed that parents with higher incomes had higher expectations for their children as they hoped they would emulate their success.