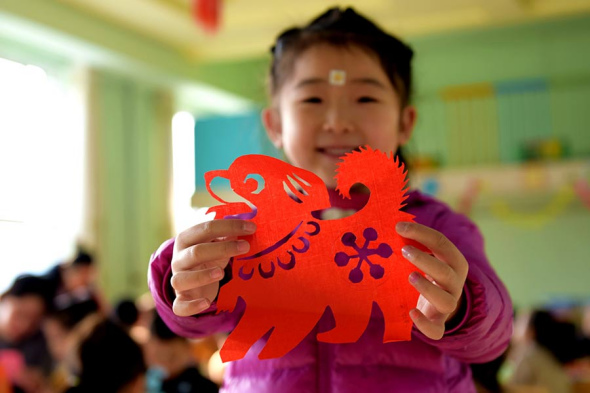 A child from Hengshui, Hebei presents her paper-cut work.[Photo by Wang Xiao/Xinhua]
Spring Festival is all about harmony and affection. And, as long as families come together, the declining use of firecrackers won't make a difference to the festival celebrations. [Special coverage]
Setting off firecrackers is one of the most popular traditions of the Spring Festival celebrations. However, the air pollution caused by it poses a serious problem.
In recent years, many Chinese cities have been suffering from smog and this has aroused great concern among the public.
With growing public awareness about air pollution, reducing or eliminating it by setting off fewer fireworks, or even prohibition of the practice, is not just a slogan.
On Dec 1, 2017, the 42nd meeting of the 14th NPC Standing Committee of Beijing passed the Decision on Amending of the Provisions on Safety Management of Fireworks in Beijing Municipality. So, in the future, the area within the Fifth Ring Road (including the Fifth Ring Road) in Beijing will see a ban on fireworks.
Outside the Fifth Ring Road, district governments shall, in accordance with the need of safeguarding public security and the public interest, mark an area that prohibits or limits the burning of fireworks and firecrackers.
More environmentally friendly and more meaningful celebrations can still make for a lively New Year's celebration. So, we chose pictures, in which people from all over the country celebrate Spring Festival with red lanterns, sticking couplets as well as paper-cutouts.
Spring Festival is all about harmony, the human touch and affection. And, as long as every family reunites for the celebration, the lack of firecrackers won't make a difference.