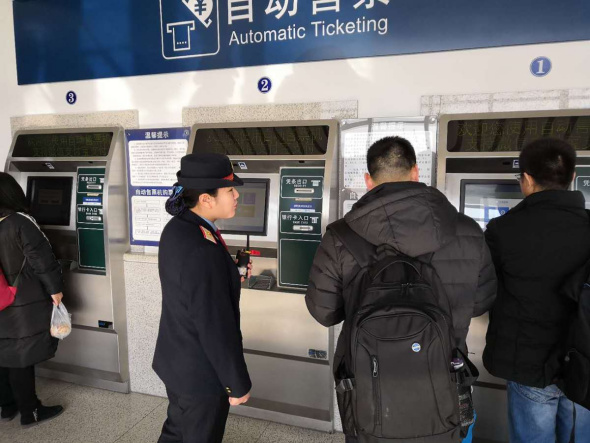 Workers at Baiyangdian Railway Station in Xiongan New Area help passengers on Feb 1.(Photo provided to chinadaily.com.cn)
Xiongan New Area in North China's Hebei province is experiencing its first peak Spring Festival travel period, called chunyun in Chinese, and is expected to see more travelers return after the festival.[Special coverage]
Baiyangdian Railway Station, located in Rongcheng county, will see about 50,000 passengers during the 40-day travel rush, according to Jiang Zhigang, director of the railway station.
Most of the passengers will travel home for family reunions.
According to Jiang, after the Chinese Lunar New Year, which falls on Feb 16 this year, travelers will start to come back to Xiongan, including migrant workers, college students, tourists and also business people who are participating in the construction of Xiongan New Area.
To ensure safety and order during the rush period, the station has strengthened its capability of handling emergency situations and providing services.
Established on April 4, Xiongan covers three counties - Xiongxian, Rongcheng and Anxin - in Hebei's Baoding.
Located about 100 kilometers southwest of the capital, the area currently has two railway stations that high-speed trains pass by - Baiyangdian Railway Station and Baigou Railway Station.
The two connect Xiongan with neighboring cities such as Beijing, Tianjin and Hebei's capital Shijiazhuang.