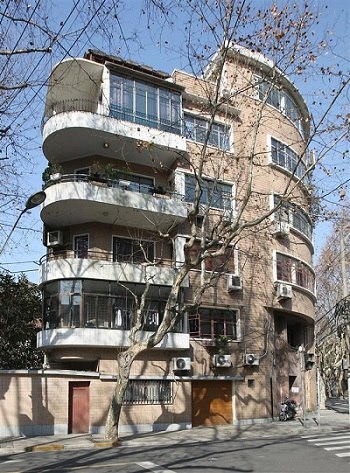 Amyron Apartments at the junction of Gao'an and Kangping roads. (Wang Rongjiang/SHINE)
An exhibition showcasing the work of Alexandre Leonard, a leading French architect during Shanghai's Art Deco period, has extended its run in Xuhui District through the end of January.
Entitled "A Shanghainese from France," it traces Leonard's life and work, with displays of 29 photos of buildings that his firm Leonard, Veysseyre & Kruze designed in the 1920s and 30s.
The exhibition is being held at 578 Yongjia Road and has drawn enthusiastic crowds.
It's a fitting tribute to a man who contributed so much to Shanghai but has faded from the public eye.
"Most residents would recognize some of his iconic buildings, such as Shanghai lady fashion department store formerly known as the Bearn Apartment on Huaihai Road," said Wu Feipeng, a biographer of Leonard. "But few of them may know his name."
Leonard was born in Paris in 1890 and studied at the renowned Ecole des Beaux Arts. His education was interrupted by World War I when he was drafted into the army. He came to Shanghai in 1920, a young man following his dreams.
In a curious footnote to a celebrated career, Leonard disappeared at the end of World War II in a mystery never solved.
Leonard started his Shanghai career on Xiangyang Road, where he designed a villa for a Monsieur Nouveau in partnership with his French compatriot and fellow architect Paul Veysseyre.
"Nouveau was the manager of the French hounds racing club," said Yao Jingchun, who has lived in a room in the villa for more than 30 years.
The villa has been subdivided into nine apartments. Yao said his wife's family moved into their flat in 1953, and much of the structure and internal decor remain unchanged. The fireplace has been retained. Though it was sealed, the original mosaic bricks on the wall still exist.
The villa's cubicle design with circular room was not a common style at the time.
"One of the rooms in my flat is a rotunda, with moulding decor encircling the ceiling," Yao said proudly. "This building is a legacy for the city."
About 3 kilometers north of the villa at the junction of Changshu and Yanqing roads is another Leonard legacy — the Savoy Apartment.
The nine-story structure in Art Deco style was completed in 1928.
An older woman surnamed Wu, who has lived on the top floor for more than three decades, told Shanghai Daily that the building once housed retired government officials. Today many foreigners rent the flats.
"Leonard was always innovating," said biographer Wu. "He played with many different styles."
Next to the Savoy are four small houses in Mediterranean style. Wu said they are also Leonard's work.
"I think what Leonard and his works show is the containment of the city we live in," said Zheng Shiling, an architecture professor at Tongji University. "According to historical records, about 66 of his works have survived. Other buildings may also be his designs but there is no proof."
Unlike Laszlo Hudec, the Hungarian-Slovakian architect who left icons like the Park Hotel and Grand Cinema on Nanjing Road West, Leonard's works have been largely forgotten, perhaps because they are hidden down quiet lanes.
"But his work has had a great impact on Shanghai's character," Zheng said. "Leonard also designed the iconic General Counsel Building of France on Maoming Road in 1925, which is part of the Garden Hotel today."
During World War II, Leonard remained in Shanghai after he was stripped of his citizenship by the pro-Nazi Vichy government because of his marriage to a Jewess.
The Amyron Apartments at the junction Gao'an and Kangping roads, completed in 1941, was a present to his wife Anna, a Russian by birth and Pole by nationality who was a cabaret singer in Shanghai.
Leonard's life story stopped abruptly in 1946. On March 1 that year, two days after France ceded its concession area back to China, a note appeared on the door of the Amyron stating that Leonard and his wife had been squatters and could no longer live there.
After walking out of the Amyron, Leonard was never seen again.
"Rumors are that he killed himself, but there is no evidence to back that up," Zheng said. "He more likely had to flee the city."