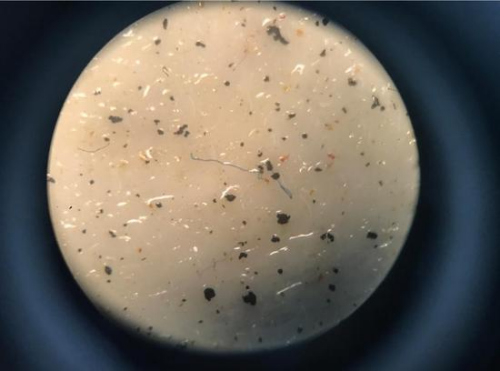 Photo shows microplastics which is the blue fiber in the middle of the membrane under a microscope in Antarctica. (Photo/cctv.com)
Chinese scientists on the latest Antarctic expedition have - for the first time - discovered the presence of microplastics in Antarctic waters, reports cctv.com.
Microplastic are pieces of plastic less than 5 mm in size. Microplatics are quickly becoming a major source of marine pollution.
Chinese scientists are warning the presence of microplastics in the polar ocean is a reflection of the widespread distribution of the environmental scourge.
The annual global production of plastics exceeds more than 300 million tons, about 10% which enters the sea.
Microplastics affect marine life, destroy marine ecologies and ultimately threaten humans.