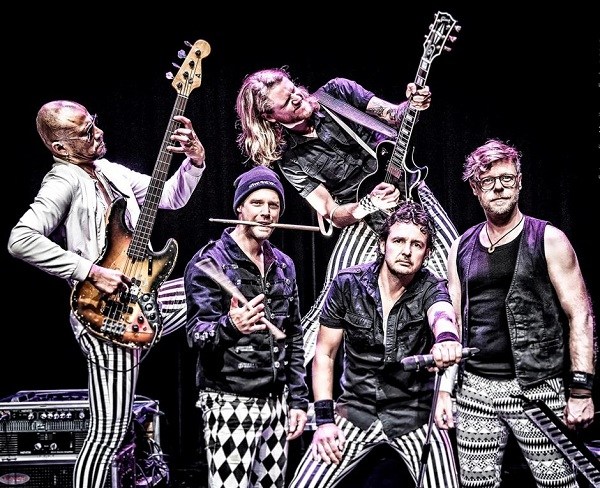 Hippe Gasten from the Netherlands (Ti Gong)
International award-winning artists will perform at Hand in Hand, an international music festival for children, at the Shanghai Centre Theater on Sunday.
Grammy and Emmy winner Lucky Diaz and the Family Jam Band from the United States and Hippe Gasten from the Netherlands will perform at the festival, bringing their hits like "Pretty Princess" and "Pippi Longstocking." The audiences are encouraged to sing and rock together.
"I hope that it will be a new and fun experience for families who come to the show," says Rebecca Kanthor from the US, who initiated the Hand in Hand International Children's Music Festival last year with her Chinese husband Liu Jian.
The couple with two children were eager to share great music with kids, yet often disappointed with the limited offerings in the market. An accidental encounter with an amazing music piece for children from the US triggered their determination to bring good children's music to China.
"Children's music does not always have to be nursery rhymes like the 'Two Tigers'," says Liu. "Good children's music can be as technically complicated as that for the adults, yet with lyrics delivering value to the children's world."
The couple searched worldwide for suitable musicians for their festival. Liu, a musician, judges on musical quality, while Kanthor, who used to be a reporter, judges on lyrics and stagecraft. And their children judge whether they like the bands or not.
They plan for about 10 bands for the festival over five years, with each festival featuring two groups from different countries.
After two years of preparation, the first Hand in Hand festival debuted last year in Shanghai, Chongqing, Chengdu in Sichuan Province, Hangzhou in Zhejiang Province and Nantong in Jiangsu Province, with more than 15,000 audience members.
Kanthor is also confident about this year's event. "Lucky Diaz writes songs on topics kids are interested in and adults can enjoy, too," she says.
"They have clever lyrics and good values that parents want to share with their kids.
"Hippe Gasten's songs are more about letting kids be true to themselves. They can be brave, strong and silly. They love to get kids and adults up on stage and show them how they can be their own rock stars," she adds.
Performance details
Date: January 7, 10am, 1pm, 4pm, 7pm
Tickets: 160-360 yuan
Tel: 1391-6137-358, 1391-8667-723
Venue: Shanghai Centre Theater
Address: 1376 Nanjing Rd W.