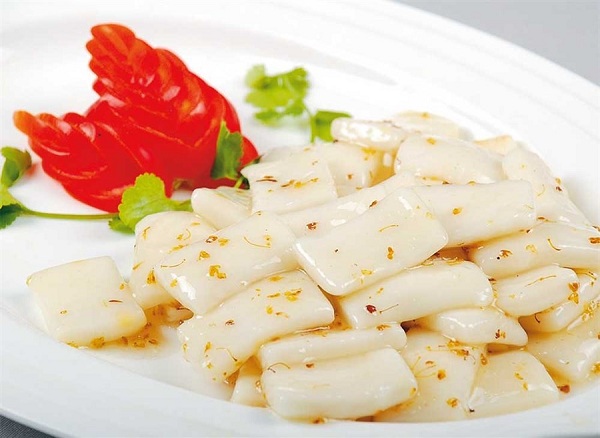 Osmanthus rice cake (Photo/Shanghai Daily)
It wasn't a case of a plague of locusts descending on Hangzhou for the National Day holiday, but it is fair to say every restaurant and eatery was packed with diners as 18.64 million visitors explored the local delicacies of Zhejiang Province's most populous city.
Popular cuisine, including West Lake vinegar fish, Dongpo pork and pian'er chuan noodle topped the gastronomes' list without a doubt. In addition, another 15 local dishes also found favor with foodies during the holiday.
Shanghai Daily takes a look at the list and picks out a couple of must-try food outlets for out-of-town visitors. They are available in upscale restaurants and small bistros hidden in lanes. Some of them are seasonal treats that only appear in autumn.
Cat's ear noodles
It is often considered a traditional noodle dish in Shanxi and Shaanxi provinces, but it actually originated in Hangzhou. This lip-smacking snack always allures diners by its unique shape that resembles cat's ears.
The flour-made dough is mixed with chicken shreds, ham, mushrooms and bamboo shoots in soup. Northern Chinese people like wheat-based foods, while the southern people prefer rice. After some adaptation, this snack, a perfect mixture of the northern and southern cuisines, has become a favorite of Hangzhou people.
Natives believed its origin was related to Emperor Qianlong (1711-99) of the Qing Dynasty (1644-1911).
During his southbound incognito trip to Hangzhou, the hungry emperor tasted a bowl of cat's ear noodles cooked by a little girl. She twisted dough into small slices and shaped it like cat's ears. Boiled in the pot for a few minutes and sprinkled with some fish sauce and shrimps as seasoning.
Qianlong brought the recipe back to the Forbidden City, thus making it a famous dish across the country. Today, it is a common snack for natives as it's easy and fast to make.
Where to eat:
• Tian Xiang Lou
Address: 447 Yan'an Rd
Tel: (0571) 8707-6789
• Hangzhou Restaurant
Address: 205 Yan'an Rd
Tel: (0571) 8708-7123
Osmanthus rice cake
Hangzhou's air is tinged with the sweet scent of osmanthus flowers, which are in full bloom this month. From western-most Yangmeiling Village to downtown hidden alleys, these aromatic flowers are seemingly everywhere.