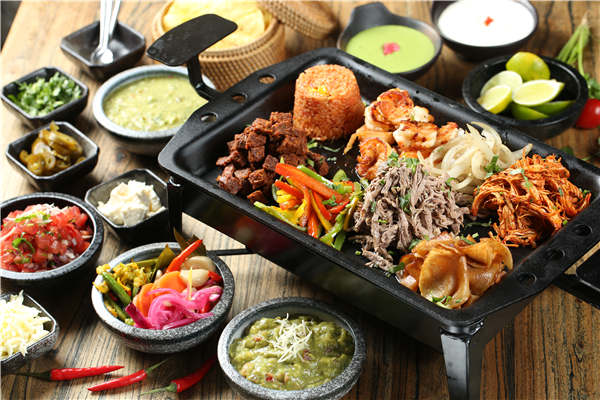 The newly opened Q Mex restaurant in Beijing offers authentic Mexican cuisine with ingredients imported from Mexico. (Photo provided to China Daily)
Pico de gallo is made with fresh tomatoes, lime juice, chillies, red onions and cilantro. Green salsa is creamy blend of green chillies, garlic, onion, cilantro, olive oil and lemon juice.
The eatery also offers DIY tacos. Guests select corn or wheat tortillas and such fillings as fried fish, butter shrimp and cream mushrooms. Garnishes include smoked pepper, onions and lime.
It also serves some of the best-sellers from Q Mex Bar & Grill, such as burritos and nachos.
"I started to understand the value of burritos in my early primary school days," Medina says.
"When I opened my lunch box, all others would look at the delicious burritos made by my mother, and I would trade my burritos for food such as sandwiches."
The restaurant pours about 50 kinds of tequilas of different ages imported from Mexico and is planning to expand to 100. Guests can imbibe shots, flasks or bottles with lime slices, lime salt and chilli salt.
"These tequilas are smooth and light. You can sip a bit and enjoy them just like drinking a good Scotch or brandy," he says.
"Our drinks are as Mexican as you can get."