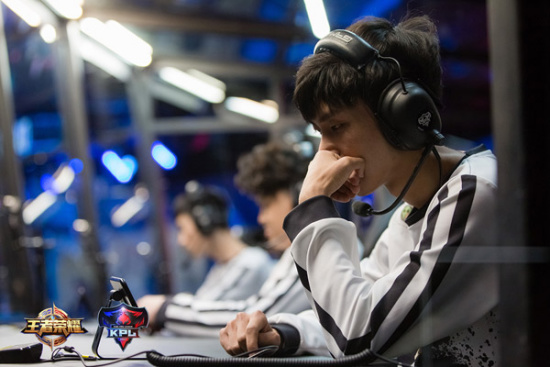 A competitor plays Honor of Kings during the 2017 King Pro League Spring Season in Shanghai in April. (Photo provided to China Daily)
Qin Fang has already smashed two smart phones since her 14-year-old daughter became obsessed with the mobile game "Honor of Kings."
When she saw her daughter direct her attention towards the laptop, she was almost ready to give up hope. However, the game's producer, tech company Tencent, Tuesday enforced a regulation to limit the amount of time children can spend playing the game.
Honor of Kings is currently the most popular mobile game in China, with more than 200 million registered players, or one in seven Chinese. Tencent statistics showed that close to half of the players are under 20 years old.
With many parents complaining that their children have become addicted to the game, Tencent started limiting the playing time for children and teenagers. Those under 12 can play for a maximum of an hour a day and cannot play after 9 p.m., while those aged from 12 to 18 can play no more than two hours a day.
A CURE OR NOT
Qin's daughter Xiao Yun (pseudonym) usually plays the game until the early hours of morning, and her mother said it has affected her studies.
"She was the top student in her class," Qin said. "But now she's ranked 19th and her teachers complain that she falls asleep at school."
Xiao Yun has also become ill-tempered, and gets angry easily if she is disrupted while playing the game.
She is not alone. In a recent extreme example in south China's Guangdong Province, a 17-year-old boy suffered a stroke after playing the game continuously for 40 hours.
According to Tencent's new regulation, Xiao Yun will only be able to play for two hours a day, which has made her mother very happy.
Tencent has required players to register their real name and ID number, which give it access to their date of birth.
However, many people question the effectiveness of the move.
Wang Yiming, a fifth-grader in Nanchang, capital of east China's Jiangxi Province, was able to buy an account name online after his parents stopped him from playing the game.
"You only need to provide your phone number, QQ messaging service ID and email address," he said. "No one asks if you are underage or not."
A Beijing News reporter bought an account name for 140 yuan. He quoted the person who sold it to him as saying "many of the buyers are primary or middle school students."
The regulation has also increased business for tech people, like Xiao Jie (pseudonym), who can change the ID information so that teenagers and children can pretend to be adults and play as long as they like. Xiao Jie said he doubled his fee to 20 yuan on Tuesday.