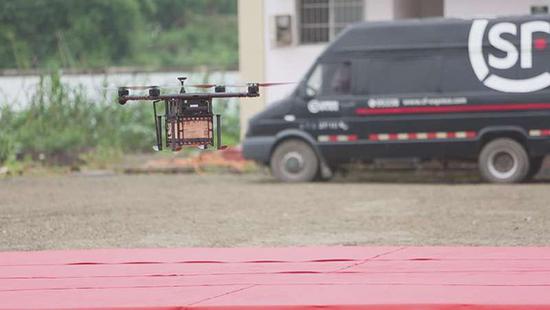 An SF Express worker picks up a package delivered by a small drone. (Photo/guancha.cn)
The major Chinese logistics company SF Express has been given the legal go-ahead for drone package deliveries, the first company to receive official permission for such a service, reports thepaper.cn.
The company can now deliver packages in its logistics demonstration area covering five villages and towns in Nankang District, Ganzhou City of Jiangxi Province.
After a package is loaded onto the drone, the route information is programmed in, and the UAV will make the delivery by itself.
SF Express teamed up with domestic drone maker Xaircraft in 2013 to test Unmanned Aerial Vehicles or UAVs.
It's reported that SF Express has developed a variety of drone models, for different business scenarios, which can carry loads of up to 5-25 kg, with a maximum range of 15-100 km.
Industry insiders say the Chinese logistics giant is planning to build an airport in Ezhou City in Hubei Province, to act as a domestic and international core hub, which can be connected with regional centers, to cover China's major economically developed areas.
Drones are expected to come into their own in remote areas where conventional means of delivery struggle.
"Drone delivery services can improve efficiency, as they won't be bothered by difficult terrain and traffic congestion. On the other hand, it shows a major technological breakthrough in energy-saving, by doing away with vehicle depreciation, road tolls and fuel costs," SF express investor and expert Zhao Xiaomin, told The Paper.
Zhao Xiaomin added that this service will lead to the upgrading of logistics automation, through the integration of the Internet of Things with the Internet.