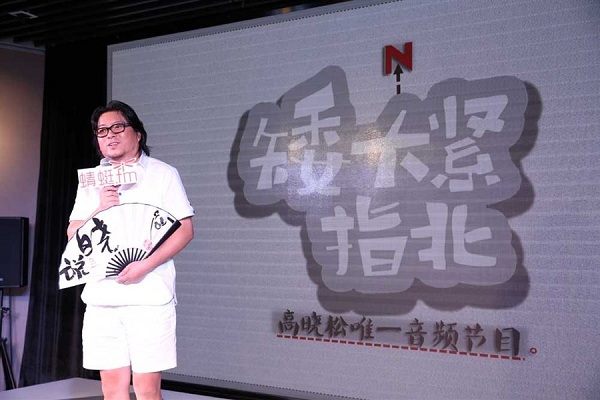 Gao Xiaosong, a popular musician in China, announces in Shanghai to produce a new talking show in online radio platform Qingting.fm, which boasts more than 200 million users. Gao tries to "focus on voice again" in the new Internet landscape.(Ti Gong)
Gao Xiaosong, a popular musician in China, said he would lend his voice to the 200 million users of Qingting.fm as part of a partnership for a new online radio show.
"The music recording industry is fast disappearing as people turn online," said Gao, who is also head of Alibaba's digital entertainment business. "This new show will focus on voice again."
No stranger to the Internet, Gao will be featured 156 times this year on Qingting, a Shanghai-based online radio platform. It is his first voice-only show online.
Online entertainment draws the majority of its income from video and games, but the industry is fast broadening its content to capture wider audiences. Firms like Baidu, Youku Tudou, iQiyi, Qingting and overseas media giants such as Discovery are at the vanguard of providing new formats.
The domestic entertainment industry is forecast to be valued at 1 trillion yuan (US$145 billion) by 2020, almost triple last year's valuation, according to officials speaking at the ongoing Shanghai International Film and TV Festival.
New business formats include paid voice programs, personal talk shows and short videos. It's all part of what is called "PAN entertainment" services. Its definition defies easy explanation. It comes from an acronym for "personal area network" and refers generally to diverse online entertainment through development of integrated content that may combine sports, travel, education and healthcare with media formats like games, animation, literature, film and television.
The government seems to welcome a "healthy and diversified" online culture after strengthening its regulation on entertainment media and personal blogs and after restricting content related to fantasy and so-called "emperor's harem fight" dramas.
Qingting, with more than 200 million users, 9 million hours of online content and 15,000 licensed broadcasters, plans to invest heavily to establish a platform with qualified and diversified online audio services, including in-house productions like Gao's show, said Zhang Qiang, Qingting's chairman.
Children's education, knowledge programs and talk shows covering hot social topics are popular among Qingting users, who seem willing to pay for high-quality content. Qingting aims to make money from both advertising and paid subscriptions, said Zhang.
In 2018, an estimated 292 million Chinese consumers will be paying for various online content, compared with 98 million in 2016, according to research firm iiMedia Data.
IQiyi has signed up with Netflix to introduce US dramas into China. It says its web drama format will become more diversified and put more emphasis on reality, moving away from the current focus on fantasy and fiction, said Wang Xiaohui, chief content officer of iQiyi.
Celebrities
During the Shanghai Film and TV Festival, Youku Tudou announced that more than 50 celebrities will participate in new online programs covering culture, finance, education, documentaries, science and charities.
The new content will feature celebrities like Ma Weidu, well-known art collector and founder of the Guanfu Museum, writer Wu Xiaobo and actress Wang Luodan. "People will want to watch," said Yang Weidong, Youku Tudou's president. "The shows are more interesting and accessible, thanks to our online video industry."
For his part, Ma has promised to bring audiences a "carnival of knowledge" on his Youku Tudou show, including discussions about his own art collection, general Chinese culture and stories from his childhood.
Another "explosive" opportunity in China's Internet landscape this year is the short video of 10 minutes or less. They are enhanced by improved network speeds, the mobile Internet, adequate investment and abundant content, companies involved in the sector said.
Indeed, investment in the short video industry is expected to top 10 billion yuan in 2018, up from 5.37 billion yuan last year, analysts said.
Baidu, the country's biggest online search service provider, has set up a 500 million yuan fund for short videos, seeing the segment as a potential gold mine, said Hu Jie, general manager of Baidu Video.
Also this month, Discovery launched its new video platform Tanba with VS Media, a HK-based media platform with more than 120 million subscribers globally. It also provides customized short video content for the Chinese market.
The new formats are attuned to mobile users clocking in on the way to work or during lunch breaks, as well as audiences in the traditional TV evening segment. They offer "affordable lifestyle" content on cooking, travelling, make-up and other topics, said VS Media.
Discovery cares more about data than limited license fees. Data are valuable to media and advertisers for analyzing and management, said Arthur Bastings, president and managing director of Discovery Networks Asia Pacific.