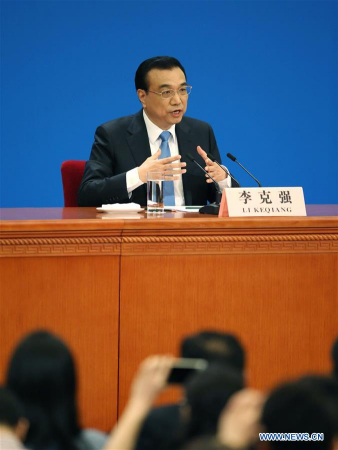 Chinese Premier Li Keqiang gives a press conference at the Great Hall of the People in Beijing, capital of China, March 15, 2017. (Xinhua/Jin Liwang)
Chinese Premier Li Keqiang said Wednesday that China-Russia trade relations have turned the corner and achieved strong growth.[Special Coverage]
The outcome should be attributed to the joint efforts from both sides, he said while addressing a press conference after the conclusion of the annual session of China's top legislature.
Against the backdrop of sluggish global economic recovery and slow growth of global trade, Li said, China-Russia trade and economic ties had been affected by factors including lower energy prices in recent years.
In the first two months this year, two-way trade recorded a big surge, showing there is still tremendous untapped potential in China-Russia economic and trade ties and the two economies are highly complementary, Li said.
He added that the goals for two-way trade can be achieved.
As to bilateral relationship, Li said that China and Russia, being each other's biggest neighbor, enjoy a comprehensive strategic partnership of coordination.
The sound and steady development of China-Russia relations is good not only for the region, but also the world, he said.
The presidents of China and Russia met several times last year and reached important consensuses, Li said, adding that the meeting mechanism between the premiers of the two nations has been carried out as scheduled for years, an indicator of the stability in China-Russia relations.