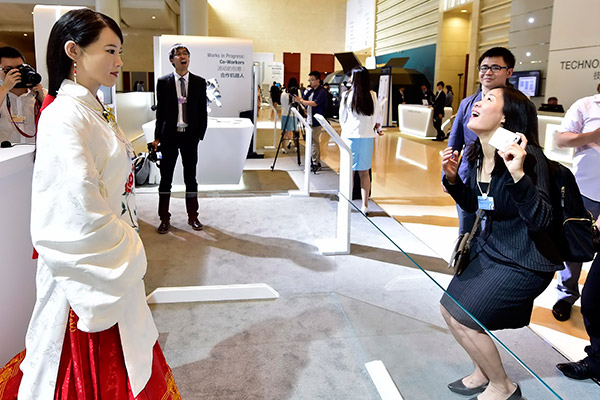 A woman visitor laughs when humanoid robot Jia Jia made a correct guess about her age at an expo in Tianjin. Jia Jia uses voice recognition technology developed by iFlytek Co Ltd, a software company specializing in intelligent speech and language technologies. (Photo/Xinhua)
A national laboratory focused on artificial intelligence should be established to support AI technology and innovation, said Liu Qingfeng, chairman of iFlytek Co Ltd, a leading firm engaged in intelligent voice and speech technologies. [Special coverage]
Liu, a deputy to the National People's Congress, called on the government to set up a national lab on voice- and speech-based AI technology, as well as an industry alliance, technological standards and a legal system related to AI technology,
He made the call at a news conference on Tuesday during the country's annual legislative and political advisory meetings in Beijing.
"China's AI technology doesn't lag behind other countries. The key is to establish an ecosystem to boost the development of the AI industry," Liu said, also suggesting that primary and middle schools and universities should offer courses in AI technologies to cultivate skills.
The Shenzhen-listed iFlytek is stepping up efforts to promote the application of intelligent voice and speech technology in the education, healthcare, finance and city construction sectors, according to Liu.
Liu hoped that AI technologies could be applied this year in a wider range of areas such as healthcare, finance, smart city construction and other sectors.
Apart from voice and image recognition technologies, and speech synthesis technology, iFlytek is pushing forward a project, which enables robots not only to listen and speak, but also to comprehend and think about what people say.
Liu said earlier AI technology had three layers-computational intelligence, perceptive intelligence and cognitive intelligence. Robots have rivaled the human brain in the first two layers, but cognitive intelligence, the ability of thinking, is more challenging.
Founded in 1999, iFlytek has captured a more than 70 percent market share in the Chinese speech technology market, and taken the lead in the formation of the Chinese speech industry supply chain.
Zhao Ziming, an analyst at Analysys International in Beijing, said: "Introducing AI technologies into essay correction and marking might make people doubt their accuracy as the machine recognition still has some limitations."
"It is time for the tech giants engaged in the AI industry to take more responsibility to establish the industry alliance and establish related standards. What the government could do is to give preferential policies to support the AI industry," Zhao said.
According to statistics from the Speech Industry Alliance of China, the scale of the global intelligent voice industry will reach $10.5 billion by 2017, with a growth rate of 29.6 percent.