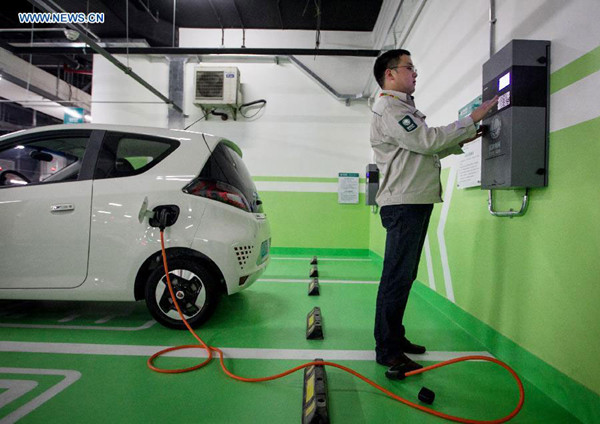 A working staff from Shanghai electricity company tests a charging post in Shanghai, east China, May 28, 2014. (Photo/Xinhua/Ding Ting)
Shanghai has become the No.1 city in the world for ownership of new energy vehicles (NEVs), according to data provided by the automobile registration department of Shanghai. There are 45,060 new energy vehicles that were registered in 2016, and total sales of new energy vehicles have exceeded 100,000 between 2013 and the end of 2016.
Shanghai held the national record of popularizing new energy vehicles 3 years straight from 2014 to 2016. The large ownership of new energy vehicles in Shanghai has made the city comparable to Norway, a country in Europe that has been lauded for its efforts to popularize new energy vehicles.
Liu Jianhua, a researcher with the Office of New Energy Vehicles of Shanghai, said the top 10 countries for popularizing new energy vehicles are China, Norway, Japan, Germany, Holland, the U.K, France, South Korea and Spain. There are 2 million registered new energy vehicles globally, and China ranks No.1 by holding 900,000 of them. The U.S ranks No.2 with 60,0000 and Norway ranks No.3 with 10,0000.
Liu Jianhua says Shanghai is the only city in the world currently that has more than 100,000 registered new energy vehicles. By far, Shanghai, Beijing and Shenzhen are the top 3 cities in China regarding use of new energy vehicles. As of the end of November last year, Beijing had 91,000 newly registered new energy vehicles, second to Shanghai, and Shenzhen followed with 56,000.
The popularization and the expansion of the market for new energy vehicles in Shanghai have also boosted related industry chains. Based on the most recent data from Statistics Bureau of Shanghai, the city has achieved 11.5 billion in production value related to NEV, exceeding 10 billion for the first time following year-on-year growth of 29.5% in 2016.