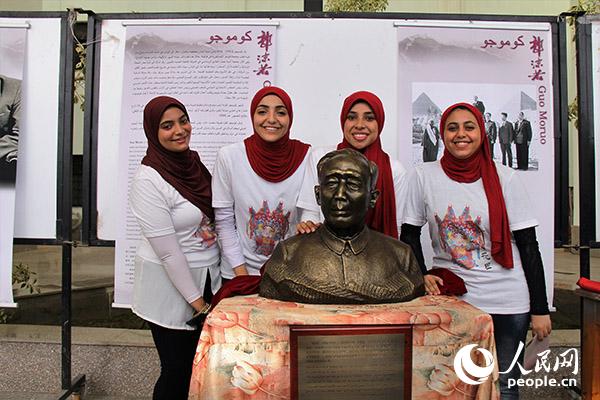 Students at a Confucius Institute in Egypt (Photo/people.cn)
Confucius Institutes in Egypt are seeing a huge surge in popularity.
According to the manager at the Institute at Cairo University, they are gradually moving away from targeting students of the Chinese language, and are beginning to attract interest from different faculties, and educational establishments in other cities across Egypt.
The Confucius Institute is a non-profit public educational organization affiliated with the Ministry of Education of the People's Republic of China, whose aim is to promote Chinese language and culture, support local Chinese teaching internationally, and facilitate cultural exchanges.
"Over the past two years, we have started to receive students from non-related faculties such as engineering, antiquities, science, law and commerce, as well as tour guides who would like to learn the Chinese language for career development," said Professor Rehab Mahmoud, manager of Confucius Institute and head of Chinese Language Department at Cairo University.
The professor explains that the Confucius Institute has opened branches in many places outside Cairo University, including Pharos University in Alexandria province, Benha University in Qalyoubiya province and Fayoum University in Fayoum province, along with other branches in several high, preparatory and elementary schools across the country.
"From the next semester, we will open a branch in Misr University for Science and Technology in Cairo and another in Aswan University in Upper Egypt's Aswan province," Professor Mahmoud told the Xinhua news agency, noting also that in 2016 the institute has hosted about 1,200 students, plus some 600 students in its various branches.
The Confucius Institute was founded in Cairo University in 2007 in collaboration with Peking University. In 2017, it's due to hold a ceremony to mark the 10th year of providing a bridge for Egyptian-Chinese cultural interaction.
Mahmoud added that Chinese companies in Egypt often ask the Confucius Institute to recommend Egyptian Chinese-speaking employees for them. "We have recently recommended some for Chinese contractors working in the construction of Egypt's new administrative capital city."
Earlier in December, the institute in Cairo was awarded as a "Model Confucius Institute" during the 11th Confucius Institute Conference held in Kunming city of southwest Yunnan Province in China which was attended by some 2,200 representatives from 140 countries and regions.
"We are so proud of the award. It was really the result of massive efforts as we held a lot of activities to mark 2016 as the Egyptian-Chinese Cultural Year," she said.
Egyptian higher education top officials often refer to China's educational experience as inspiring and see academic exchange visits and cooperation with Chinese universities as necessary interaction for both countries that enjoy growing bilateral relations.