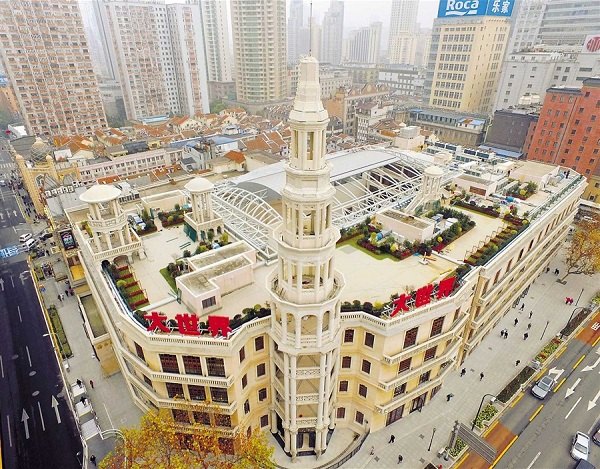 An aerial view taken yesterday of the revamped Shanghai Dashijie.(Zhang Suoqing)
Shanghai Dashijie, a century-old, once popular entertainment center in downtown, will reopen for a trial operation on Wednesday to exhibit "intangible cultural heritages," officials said.
The building, also known as the Great World Amusement Center, will officially open to the public in March, the Huangpu District government said.
It will only open to invited visitors during the trial operation, such as staff from local government agencies, university students and the media to test safety and management.
The center will initially open three days a week and gradually increase opening days after the Spring Festival. The building is located on Xizang Road S. in Huangpu.
Ticket prices for the official opening have yet to be announced, but free and discounted tickets will also be issued because the center will reopen as a "public service" facility, according to the district culture bureau, which will run the center.
Many of China's intangible cultural heritages will be exhibited or performed in the center. Visitors can also taste traditional food inside, said Qiu Weidong, deputy director with the district's culture bureau.
"The performances will mainly include Chinese traditional operas, folk music and handicraft shows, while some regulation training sessions will also be held in the center on traditional skills and etiquette," Qiu said.
The city already has 55 national-level and 220 city-level intangible cultural heritages, including paper cutting, dough sculpture and lantern making.