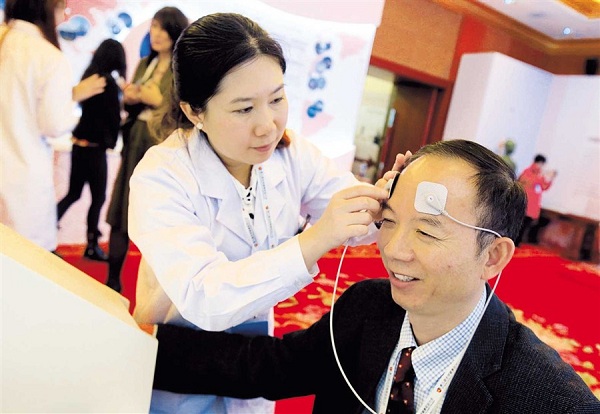 A conference delegate tries out a sensor system used in traditional Chinese medicine.(Xinhua)
Developing traditional Chinese medicine is a national strategy, and the nation wants to push for communication and cooperation with other countries to drive more innovation in this field and tackle critical diseases of the human race, the conference was told.
Wang Guoqiang, vice minister of National Health and Family Planning Commission of China and the commissioner of state TCM administration, outlined the role of TCM yesterday.
"We will continue to work with the International Organization for Standardization and WHO on determining and publishing international standards of technology, service, terminology and products of TCM so that it can reach more people in the world."
Chinese TCM scholars at the conference recounted success stories of TCM benefiting people in disease prevention and driving down medical expenditure.
Chen Kaixian, professor of Shanghai University of TCM, said a pilot project of "prevention" health care based on TCM provided to 1.2 million residents in Changning District and Pudong New Area in Shanghai had yielded positive results. The project integrates disease prevention, rehabilitation and health education at the grassroots level of society.
"TCM takes a holistic approach to tackle health problems, which makes it an alternative to Western medicine and proves to be highly effective in disease prevention and treatment too," Chen said.