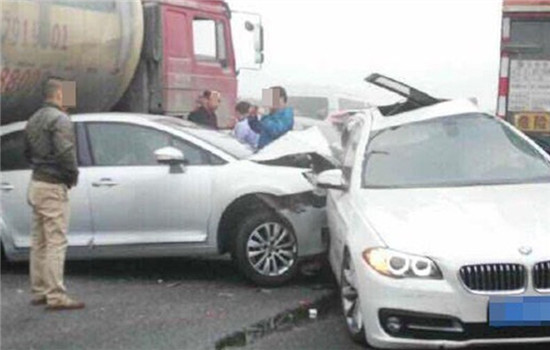 More than 20 vehicles are involved in multiple rear-end crashes this morning on S32 Expressway, killing at least four people and leaving 40 others injured.
Nine people died and 43 were injured in two rear-end crashes on Shanghai's S32 Expressway that occurred during heavy fog yesterday morning.
Two were confirmed dead at the scene in one of the accidents, and five were found dead in the other. Two more people died in hospital, police said.
Police first received a report at 5:54am that multiple vehicles had crashed on the S32, near a ramp of S2. The S32 links Shanghai with Zhejinag Province's Jiaxing and Huzhou.
Two people were killed after getting out of their vehicle to see what was causing congestion ahead. They were hit by an out of control tanker, police said.
When police arrived at that scene, they found a further five people had been killed when a construction vehicle was crushed by two large vehicles from both front and back. The crash was about three kilometers away from the accident that killed the two people on the expressway.
The injured were sent to local hospitals.
Some drivers reported that the road was very slippery and braking had led to vehicles losing control.
"The fog was very heavy," an unidentified driver told Shanghai Television Station. "When I saw the accident ahead, I wanted to slow down and brake. But once I hit the brake, the vehicle went out of control."
The driver, who was ferrying acetylene bottles, said about 100 of his bottles fell on the road during the accident.
Zhoupu Hospital treated 12 people. "One of the victims died on the road to the hospital," Ding Fuhao, a doctor with the hospital, told the television station. "Three were critically injured."
The city's meteorological authority issued an orange alert on heavy fog at 6:06am, meaning visibility would be lower than 200 meters in some areas.
The dense fog hit coastal areas in particular, including Chongming Island, Pudong New Area, Baoshan and Fengxian districts. The alert was canceled at 9:44am. This was Shanghai's first orange alert of heavy fog since the arrival of autumn.
Several expressways in the city were closed or subject to speed limits yesterday morning.
Shanghai Road Administration Bureau said vehicles running on G2, G15, S26 were asked to reduce their speed to under 80 kilometers per hour; G1501's east and south sections, G60, S4, S2 and G40 introduced a speed limit at 60 kilometers an hour; G50 had a speed limit at 100 kilometers an hour; S32 introduced a speed limit at 80 kilometers an hour on its Puxi section, and a limit of 60 kilometers on its Pudong section.
Three toll stations in the city were closed in the morning.
Dalian Road Tunnel and Fuxin Road Tunnel introduced emergency response measures after the ferry services were suspended. Non-motor vehicles were directed to use the tunnels to cross Huangpu River after the suspension.
Pudong International Airport was also affected by the bad weather. The airport's traffic was about 60 percent less than normal in the morning but picked up the pace after the orange alert was canceled, the city's television station said.