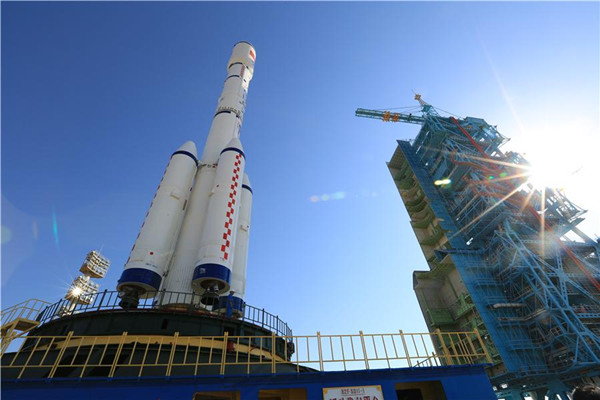 Tiangong-2, China's second space lab, aboard the CZ-2F rocket carrier, is transferred to the launch pad at the Jiuquan Satellite Launch Center in Gansu province on Friday. (Photo/China Daily)
A joint drill of the Tiangong-2 space lab and the carrier rocket Long March II or CZ-2F was held on Sunday at Jiuquan Satellite Launch Center in northwest China.
The drill is designed to simulate situations three hours before the actual launch, which are regarded as the most critical moment to the launch.
According to the engineers, the testing process went smoothly.
A 600-second testing on the components and parts of the Tiangong-2 and its carrier rocket Long March II was carried out during the drill, and they were in good condition.
Tiangong-2, scheduled to be launched in mid-September, enables two astronauts to live in space for 30 days, and is capable of receiving manned and cargo spaceships.
It will act as a testing area for mid-length stays and refueling in space.