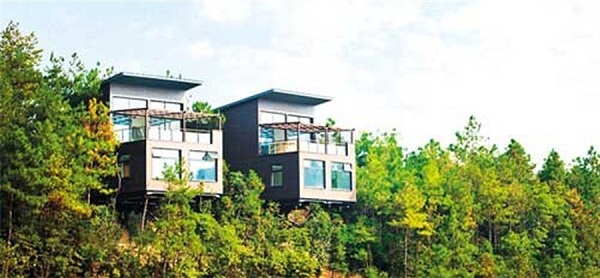 At Naked Stables Retreat, guests can stay at villas designed with privacy and serenity.
Summer in Shanghai is no picnic. First comes the rain and humidity of late June and early July. If you can survive the sticky discomfort, next comes the oven-like heat of August.
For those who can't swing an extended vacation to more favorable climes, just a few hour's drive from Shanghai is Moganshan. This secluded mountain haven in nearby Zhejiang Province boasts plenty of cooling shade in its peaceful bamboo forests, as well as refreshing lakes and rejuvenating spring waters.
Over recent years, Moganshan has become a popular weekend getaway destination for Shanghai residents looking to get back to nature. It's also gotten plenty of attention outside of China, with both the New York Times and CNN Travel recommending Moganshan as a top travel destination over recent years.
But how did this sleepy mountain region attract so much attention?
In fact, Moganshan's history goes back further than many might expect. The area gets its name from the legendary figure Mogan, who vanquished a wicked emperor who killed his father, a famed swordsmith. Today, many locations in Moganshan bear the name of the man's parents (Ganjiang and Moye). Several place names — like Sword Lake — also draw from the legend.
In more recent times, Moganshan's appeal with urban vacationers has grown hand-in-hand with its booming tourism and bed-and-breakfast scene. As of 2015, there were over 400 such establishments operating in the Moganshan area, statistics show.
One early entrant was Naked Stables Retreats (裸心谷), which now operates a high-end, eco-friendly resort in the area. The "naked" in the company's name refers to its unfettered embrace of nature, and the pleasures of slowing down and enjoying life.
"I prefer B&Bs because they're more down to earth, and it's easier to connect with locals. Today, B&Bs don't necessarily mean lower quality. They are getting better and better with their facilities," says a traveler from Shanghai who goes by the name of ZZ.
"There are so many B&Bs in Moganshan, and they're all good and cheaper than resorts."
Many of these establishments tout their sustainable business practices, as well as their connections with the land and local agricultural communities. Of course, many of them also feature stylish, cozy designs and amenities targeted at urbanites.
At Naked Stables Retreat, guests can stay at villas designed with privacy and serenity in mind. Standing on the terrace, all you can see are mountains and bamboo plants. Outside the resort, hiking trails are offered for varying levels of difficulty. Mountain bikes are also available for rent. Of course, you can also be lazy and just relax in a hot tub as you take in the breathtaking mountain views.
Rustic relaxation
For a somewhat less lux experience, check out Lost Villa (大乐之野), founded by two college friends who were inspired by a B&B guesthouse they stayed at in New Zealand. Its owners say the concept of Lost Villa is "a wonderful life" — and guests will surely agree as they let the stresses of urban life get washed away in its relaxing hot spring waters. When not enjoying Lost Villa's amenities, including the Lost Cafe and a reading room, guests can attend coffee classes, go rafting in a nearby river and take a fruit-picking tour.
If lounging and hot tubbing aren't your thing, there's Prodigy Outdoor Base (骑迹), a hostel-style B&B in Moganshan operated by the Prodigy Mountain Bike Club and a destination for outdoor sports enthusiasts. In addition to its frequent cycling excursions, the club also organizes rafting, boating and team-building activities, as well as trips across China and the surrounding region. Prodigy provides transportation between Shanghai and Moganshan.
After a day of outdoor fun, guests often come together in the reasonably priced hostel for a night of campfire-cooked pizza, beer drinking and guitar strumming.
Life in the concrete jungle of Shanghai can be exhausting, especially with the heat of summer weighing on you. Every now and then, we all need to get away. Fortunately, hospitality brands like Naked Stables, Lost Villa and Prodigy bring the beauty of nature within reach.