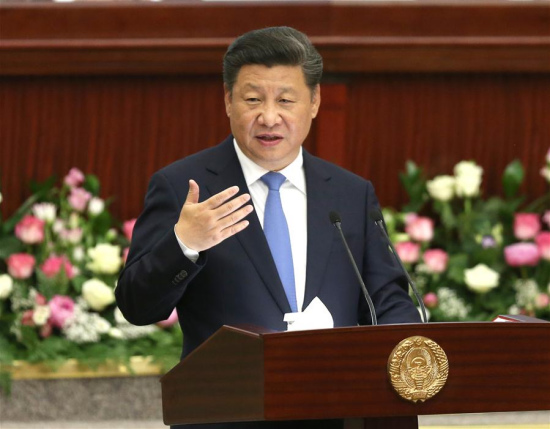 Chinese President Xi Jinping delivers a speech at the Legislative Chamber of the Uzbek Supreme Assembly in Tashkent, Uzbekistan, June 22, 2016. (Xinhua/Ma Zhancheng)
Chinese President Xi Jinping called for building a "green, healthy, intelligent and peaceful" Silk Road while addressing the Uzbek Parliament on Wednesday.[Special coverage]
Speaking to the Legislative Chamber of Oliy Majlis, the Uzbek parliament, Xi assessed the primary achievements of the Belt and Road Initiative and invited Uzbekistan and other countries to jointly carry forward the initiative in both breadth and depth.
"We will, on the basis of the principles of voluntarism, equality and mutual benefit, join hands to build a win-win cooperation network for the Belt and Road Initiative featuring pragmatism, enterprise, inclusiveness, mutual learning, openness, innovation and common development, and contribute to the revitalization of the global economy," Xi said.
The Chinese president pledged to uphold the principle of wide consultation, joint contribution and shared benefits, and synergize development plans among countries joining in the Belt and Road Initiative.
"On that basis, we will carry out bilateral and regional cooperation and create a new cooperation model underpinned by trade and investment liberalization and facilitation, focusing on connectivity, production capacity cooperation and people-to-people exchange, and enabled by mutually beneficial financial cooperation," he said.
The president said China aims to make consorted efforts with partner countries to develop a new multi-player, all-dimensional and cross-sectoral platform of win-win cooperation.
He also voiced support for advancing projects in priority areas under the Belt and Road Initiative, including the infrastructure networks, production capacity cooperation, financial innovation and cooperation on people-to-people exchanges.
In particular, Xi suggested that the partner countries deepen cooperation in environmental protection, intensify ecological preservation and build a green Silk Road.
"We need to deepen cooperation in medical care and health, strengthen win-win cooperation in the alert of communicable diseases, disease prevention and control, medical assistance and traditional medicine, and build a Silk Road for health," said the president.
Meanwhile, on human resources cooperation, China proposed a vocational skills cooperation alliance to train and produce professionals in various fields to build an intelligent Silk Road.