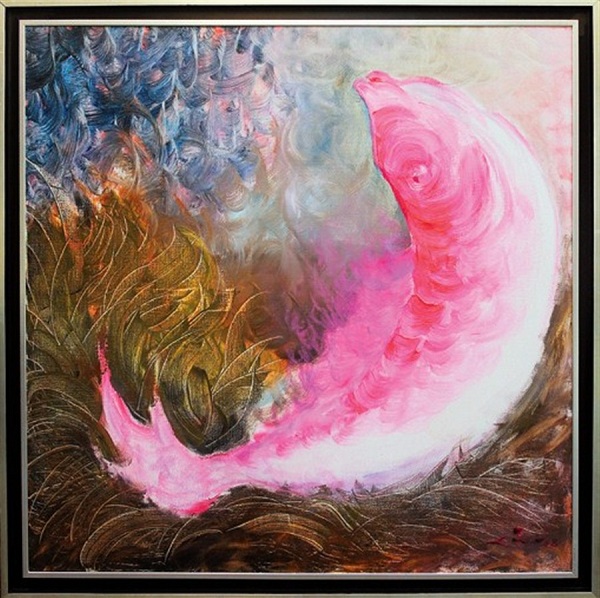 Fish painting by Lin Mingjie and a fish ornament designed by Cheng Yijie
"Like a Fish," a joint exhibition featuring the canvas created by Lin Mingjie and ornaments designed by Cheng Yijie is on display at Mao Space until June 18.
It is surprising to find an oil painter and ornament designer at the same exhibition. But after viewing the show, it is clear why — the inspiration of the ornament designer comes from the paintings on the wall.
Lin, a local art critic and painter, focuses entirely on the subject — fish.
With his brushstrokes, the fish is personified. The brilliantly hued fish in rose-carmine under an azure-blue backdrop renders strong visual impact to the viewers.
"Some of my friends said that I am just like this fish," Lin says with a smile. "Perhaps they are right. These fish reflect my attitude toward freedom and passion."
Lin refuses to adopt any stereotype painting technique to depict his canvas, but instead he paints waywardly, ignoring the basic skills of "what an academic painting should look like."
"Why? I am not painting to please others. I am painting to please myself and I want throw all the shackles away."
Lin said it was interesting to cooperate with Cheng, a young designer. "She uses the same elements as in my paintings, such as the fish, its scales and rabbit in her ornaments," Lin says.
"Don't think this is a simple copying," Cheng said. "When I am designing, I must understand the true cultural meanings beneath the surface."
Cheng makes some alterations to "liven up" these ornaments.
"The fish eye is the most difficult part, as it often appears stiff. So I used black diamond to give it a vivid look," she explains.
A graduate from the department of sculpture, Cheng says that each ornament, in her eyes, is "a tiny wearable sculpture."
Date: Through June 18,
11am-9pm (Closed on Mondays)
Venue: Mao Space
Address: 61 Anyi Rd