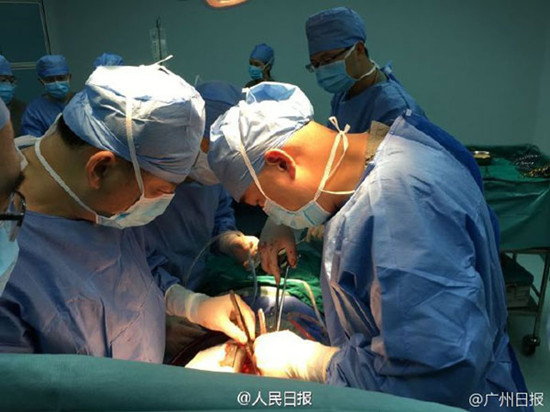 An organ transplant surgery is performed in Zhongshan People's Hospital in Guangdong Province, May 24, 2016. (Photo/Weibo)
Organs of a man who died of a sudden cerebral hemorrhage on Monday morning in south China's Guangdong Province have saved the lives of another five in the country.
After the man's death, his family decided to donate all his organs that are able to be transplanted, in accordance with the man's last wishes.
Five organs of the deceased were determined to be transplantable after passing medical assessments.
The man's lung was donated to a young woman; his heart and liver were respectively donated to two middle-aged men; and the kidneys were donated to a woman who suffered from uremia, and another man.
Five transplant surgeries were performed successively on May 24, in Zhongshan People's Hospital in Guangdong Province.
After the six-hour operations, the five recipients were granted a new lease of life.
China has a serious lack of human organs, though the nation ranks third globally in terms of the number of organs donated. Some patients must wait for years for transplant surgery, and many don't survive long enough to receive a transplant.
In Zhongshan People's Hospital alone, there are more than 300 patients in hospital who need organ transplants every year, but only around 100 of them receive donors.
Earlier this year, the country's health, police and transportation authorities have jointly established a "green passage" to ensure fast and safe transfer of donated human organs.
The move is aimed at shortening transportation time and reducing damage or waste of human organs to help patient survival.
Many human organs, such as the liver, cannot be stored for longer than 12 hours or they will become unusable or dysfunctional following transplant, it said.
In 2015, 2,766 people donated major organs after death, almost double the number in 2014.
Previously, executed prisoners were one of the major source of organs. On January 1, 2015, China banned the harvesting of organs from prisoners.