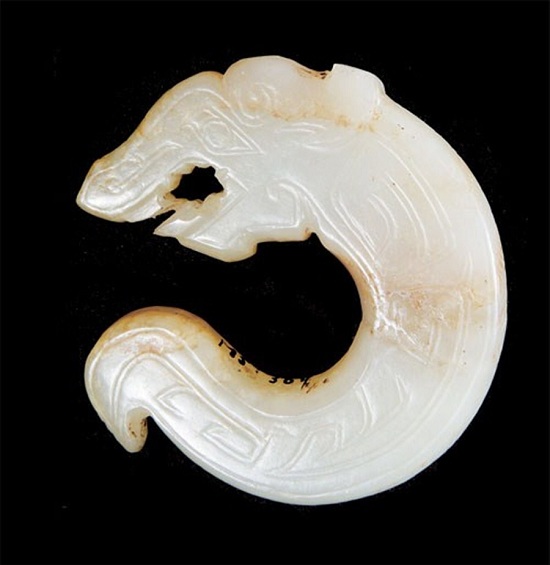 The dragon jade carving
The story of the woman warrior Hua Mulan has been passed down in history through ballad, film and drama for 1,600 years. Much of the tale's popularity comes from the rarity of a heroine in a time when women were largely relegated to domesticity.
No artifacts have actually been discovered yet to prove the existence of Mulan, but an exhibition at Capital Museum is capturing attention with revelations of an even earlier female warrior named Fu Hao.
She lived more than 3,000 years ago. Her life is being pieced together through oracle bones, bronze and jade weapons, jewelry and vessels found at an excavation of her tomb in what is now Henan Province in central China.
The museum tribute to her is entitled "Queen, Mother, General — the 40th Anniversary of the Excavation of the Shang Tomb of Fu Hao." The exhibition at Capital Museum in Beijing runs until June 26.
Curators selected 411 objects from Henan Museum and the Institute of Archaeology to put on display. They recreate the life of Fu Hao, who died at the age of 33. Many of the objects are being exhibited for the first time ever.
As the title suggests, Fu Hao was a queen, mother and military general. Those facts have been confirmed by historical records found on oracle bones and burial artifacts in her tomb. Among the items are delicately carved bone hairpins that were considered a luxury at the time, bronze containers commissioned by her children and a bronze axe weighing 9 kilograms, which functioned as a general's scepter.
The texts and burial objects also show Fu Hao as a high priestess. Wine vessels believed to have been used in religious ceremonies were unearthed, along with oracle bone texts suggesting Fu Hao hosted visits to the king by distinguished foreign guests.
"Fu Hao's name was discovered frequently on oracle bone artifacts long before her tomb was unearthed," archeologist Zheng Zhenxiang told visitors at the opening of the museum exhibit.
"The oracle bones record her as a queen, revealing that she has presided over religious rituals, led troops and never lost a battle. We can see that she was well respected, and she was the first woman general in existing documents."
Zheng, now 87, led the excavation 40 years ago in Anyang, Henan. Her team unearthed nearly 2,000 burials objects in the queen's tomb, which was 20 square meters and 7.5 meters deep.
The tomb, soaked in water for thousands of years, left very few remains of the legendary woman herself, but her burial objects survived time and water.
It was a thrill for the team and other archeologists to find Fu Hao's name, one familiar to them, engraved on some of the bronze objects discovered in the tomb.
Her name had already appeared more than 200 times on oracle bones discovered earlier in royal tombs of that period.
"It's easy to consider her surname to be Fu and her first name to be Hao, according to our custom today," Feng Hao, the exhibition's co-curator and deputy director of the museum's Research and Exhibition Planning Department, explained to Shanghai Daily. "But Fu, which means woman, was a title for aristocratic women. Hao is actually her surname, probably the name of her tribe. She was one of the queens of King Wu Ding. It was a prosperous time of the dynasty."