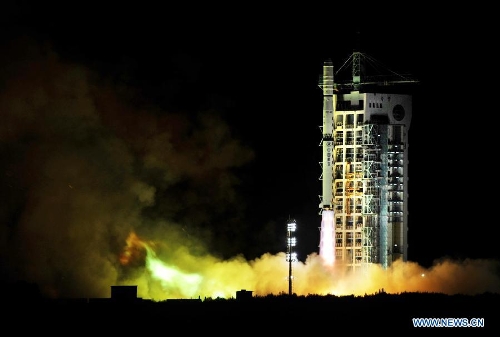 A Long March-4C carrier rocket carrying the Yaogan XVII remote-sensing satellite blasts off from the launch pad at the Jiuquan Satellite Launch Center in Jiuquan, northwest China's Gansu Province, Sept. 2, 2013. (Photo/Xinhua)
It's being suggested as many as 110 Chinese-made Long March rockets are going to be launched in the next 5 years.
The suggestion comes as Chinese space authorities prepare to debut the next-generation Long March 5 heavy lift rocket and medium Long March 7.
The heavy carrier rocket is said to comparable to the Saturn-5 rocket used by United States to send men to the moon.
Chinese space officials say the new-generation rockets will use environmentally friendly propellant and will feature first-class space technologies.
China's Mars program is being based on the development of the Long March 5 rockets.
A mission to Mars through the use of the Long March 5 is expected to be launched by 2020.