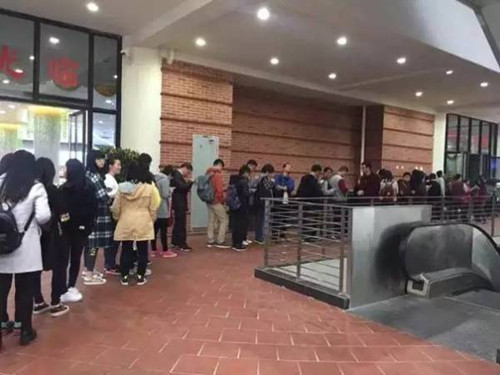 Students formed a long queue outside the cafeteria before 11am on Monday, Feb. 22, 2016. (Photo:www.ce.cn)
A buffet restaurant at a Chinese university has closed its doors to students just two days after it opened because it was unable to cope with the huge demand.
Xiamen University, located in southeast China, said the canteen was originally designed to cater to staff and alumni.
However on it's first day in operation (Feb. 22), a long queue of students had formed by lunch time, and the cafeteria made no attempt to exclude the students.
Charging only 25 yuan ($3.8) per person for the buffet, providing hot dishes, dumplings, desserts, fruit, beverages, etc., it innevitably attracted crowds of diners.
Two days later the management decided to tell the students they were no longer able to use the facility.