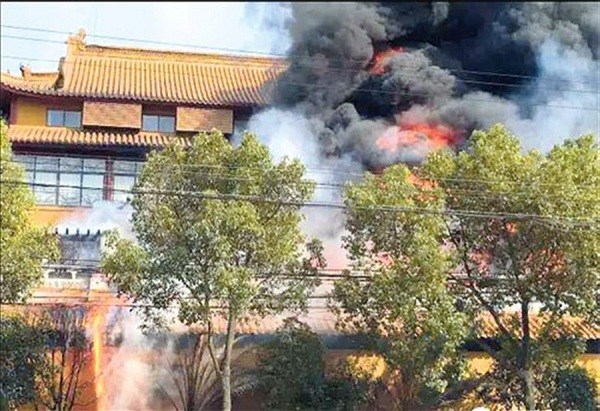 Eryan Temple is engulfed by fire and smoke yesterday.(Photo/Shanghai Daily)
An investigation is under way to determine the cause of a fire yesterday at Eryan Temple in Shanghai's Fengxian District, local police said.
The blaze started shortly before 1:30pm on the second floor of the shrine's Jade Buddha Building. While its cause is not clear, officials said it might have been due to a candlestick being knocked over.
Firefighters were called and the blaze was brought under control within about 10 minutes, officials said, adding that no one was injured in the incident.
The Buddhist shrine is one of Fengxian's leading tourist attractions and receives about 180,000 visitors a year.
Meanwhile, an empty store just 50 meters from a petrol station in Hongkou District also caught fire yesterday, local authorities said.
Workers from neighboring stores attempted to tackle the blaze using small extinguishers, but were unable to get it under control.
The petrol station was evacuated, but no one was hurt and firefighters managed to put out the blaze after about 20 minutes, an official told Shanghai Daily.