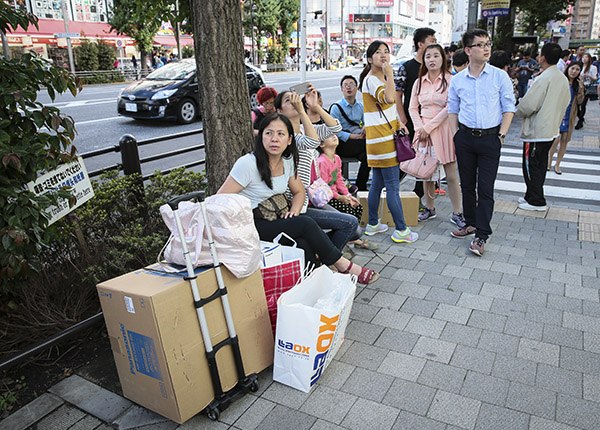 Chinese shoppers are seen in a photo taken in the Akihabara electronics shopping district in Tokyo, Japan on October 2, 2015. (File Photo/Xinhua)
Japan is expecting a huge influx of Chinese tourists, with money to spend, over the Lunar New Year holiday period. Cosmetics, electronic appliances, drugs and branded items are top of the shopping list.
A recent report shows Chinese mainland tourists spent on average 2,300 dollars per person per stay in Japan. That is 75 percent more than any other nationality.
That has made Chinese tourists in recent years the most desirable customers for many Tokyo retailers.
Masataka Hattori with the discount store Don Quijote in Tokyo, says they now regularly plan their sales strategy around Chinese tourists at this time of the year.
"For the Lunar New Year, we are planning to distribute discount coupons in each shop, meanwhile our other big plan for the season is that we have started sales of brand goods at 11 flagship stores across Japan from February 1."
A wide range of Japanese goods including cosmetics, electronic appliances, drugs and branded items, are the most popular products among Chinese customers in Japan.
Wang Fei, who was visiting Tokyo with her 10-year-old son, had just arrived in Ginza and was ready to go shopping.
"Of course my child would want to buy Gundam robots and LEGO toys, and I personally prefer some local brands in Japan. I think I will buy high-quality clothing and some Japanese medicine which works quite well."
Chinese tourists are not just spending on products to take home. More and more are also taking in the sights and sounds of Japan's tourist spots.
Aiming at attracting more frequent tourist visits, major attractions have put in place Chinese signs and audio guides.
The industry analyst Mariana Kou says both economic and cultural factors are behind the Chinese people's interest in Japan.
"The yen's depreciation really makes it a lot cheaper to go to Japan, but I think from demand in Japan, it also has a great variety of offerings from really amazing food, really similar Asian cultures."
Around 450,000 Chinese tourists spent more than 900 million U.S. dollars during the Spring Festival in Japan last year.
Lastest surveys show 37 percent of Chinese tourists who visit Japan consider visiting again in the next three years.
To accommodate the growing numbers of Chinese tourists, Japanese and Chinese airlines have already increased the number of flights between Tokyo and Chinese cities including Beijing, Shanghai, and Guangzhou.