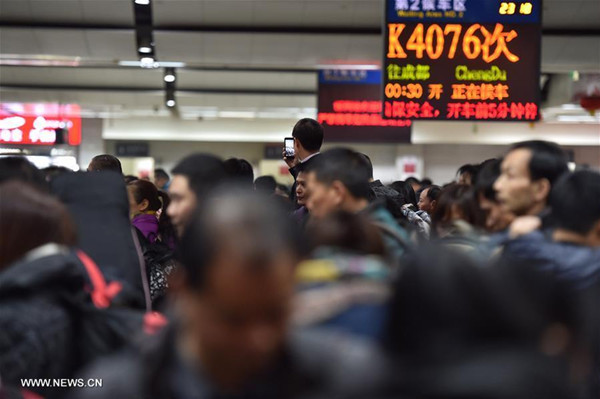 Passengers wait to board K4076 train, the first extra train for the 2016 Spring Festival travel rush from the railway station of Shenzhen, south China's Guangdong Province, to Chengdu, southwest China's Sichuan Province, on Jan. 24, 2016. Over 2.9 billion trips will be made around China during the 40-day Spring Festival travel rush, which kicked off Sunday, traffic police authorities estimated. (Xinhua/Mao Siqian)
Transport authorities are beefing up various emergency measures to ensure passenger safety, as the Spring Festival travel rush, or "chunyun," begins amid sweeping cold wave.
The Spring Festival travel rush started on Sunday, two weeks ahead of the Lunar New Year.
Railway authorities in different parts of the country have made preparations to ensure passengers are protected from the cold.
Xin Xiaoyu is the deputy chief of Shenyang North Railway Station.
"We have placed thick padded curtains and warm air curtains over all the entrances, so as to keep the waiting room warm."
The Spring Festival travel rush also means a bigger workload for railway staffers, and this year, the cold weather has kept them busier.
Wang Tongliang is with the Passenger Traffic Department of Wuhan Railway Bureau.
"We will take measures based on different levels of impact caused by the cold wave. For instance, the overhead lines may freeze in cold weather. In this case, high-speed trains will operate at a slower speed."
The cold weather has driven much of the passenger flow on highways and civil aviation to the railway, which is expected to handle 6 million trips on the first day of the travel season, a significant year-on-year increase.
More than 300 trains have been added to cope with the rise in traffic.
In total, it's expected that this year's travel spree is to witness more than 2.9 billion trips, a 3.6 percent year-on-year increase.
In response to the rising passenger flows, Wang Shuiping with the Ministry of Transportation says authorities are coordinating different transport means to improve capacity.
"Along with the more-than 3000 daily scheduled trains, 400 extra trains will be added. 846-thousand buses will be put into operation during the travel rush, offering nearly 22 million seats. Each day 2.6 million bus trips will be made by road. 20-thousand ships will be available with one million seats. And the civil aviation system is expected to offer 520 thousand flights, up seven percent year-on-year."
During the Spring Festival travel rush in previous years, ticket scalping, overload, and fatigued drivers were among the problems plaguing travelers.
Lian Weiliang, deputy director of China's National Development and Reform Commission, promises there will be a crack down on illegal acts to protect passengers' rights.
"We will punish those who scalp train tickets, incite passengers to create a disturbance, and those who are responsible for overloading and speeding. We will record their behavior and share the records with related departments; We will exert limits on their administrative licensing, bond issuing and financial support. Those who violate regulations repeatedly will be added to a black list."
The Spring Festival, which falls on February 8th this year, is a time for family reunion here in China.
The 40-days travel rush is seen as the largest human migration in the world.