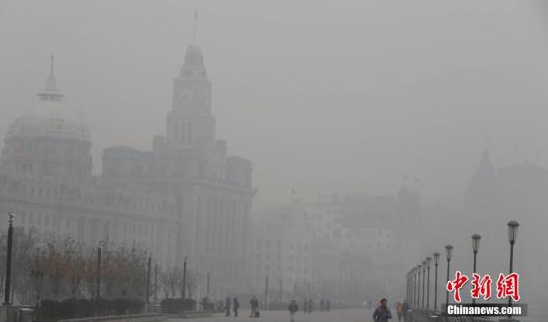 The latest round of air pollution will get worse before it gets better, with conditions unlikely to improve before the end of the week, an official from the city's environmental monitoring center said yesterday.
"The pollution will last for two to three days," said the worker from the Shanghai Environmental Monitoring Center.
Today will be worse than yesterday, but the situation should start to improve late on Saturday and people can expect "good air on Sunday," the person said.
The air quality index is likely to be between 175 and 195, or moderately polluted, this morning before breaking the 200, or heavily polluted, mark in the afternoon.
The AQI peaked at 163 at 11am yesterday with tiny PM2.5 particles being the major pollutant. The Pudong New Area and the districts of Xuhui, Yangpu, Putuo were among the worst affected, the center said.
The majority of the pollutants were blown into Shanghai from the north and west, and the lack of wind in the city meant they did not disperse, it said.
Today will be cold, with the high temperature unlikely to surpass 8 degrees Celsius, while tomorrow and Saturday will be slightly warmer, with a high of about 10 degrees, forecasters said.
More wet weather is set to arrive in the city on Sunday.