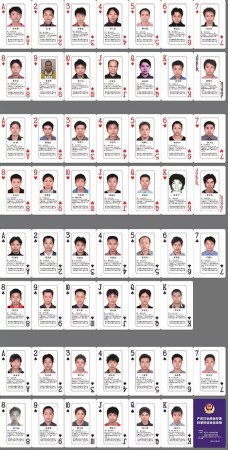 The photo shows a set of poker cards printed with head shots and other information of suspects of cybercrimes. (Photo/thepaper.cn)
Police in South China's Guangxi Zhuang Autonomous Region have printed on poker cards the photos of culprits for their quick capture.
Head shots as well as other personal information of 248 suspects of cyber crimes appear on the cards distributed to residents in Binyang County.
Meanwhile, a reward of 2,000 yuan is being offered to anyone who provides information that leads to the capture of any of those wanted persons.
So far a total of 15,000 sets of such poker cards have been given away.
Police authorities plan to distribute the pokers to all counties and villages where the criminals come from.