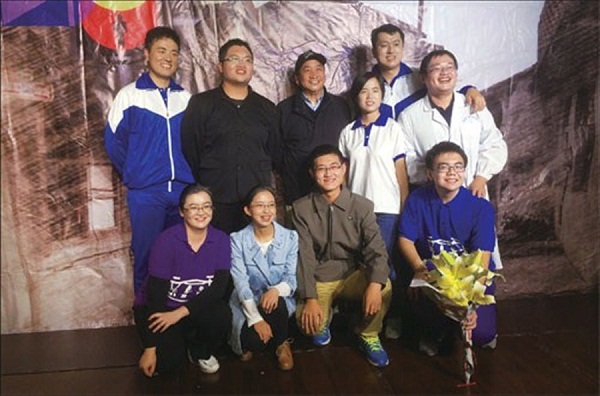 Members of Li Hongye's Xinyu Crosstalk Club pose for a picture after a show on a local university campus.(Photo/Shanghai Daily)
Li Hongye was looking at a career in science — a cozy job with a comfortable income that would ensure financial stability until retirement. But one day, he decided to give it all up to become a full-time comedian. To be more specific: he became one of Shanghai's biggest names in crosstalk, or xiangsheng, a traditional comic form originating in north China featuring jokes, vocal imitation and humorous storytelling. The scene here is still small and the audience consists mostly of university students, but Li appears to have made the right decision. Unique dialogues and creative puns have propelled the comedy form to unknown popularity in Shanghai, largely thanks to Li.
By trade, Li is a scientist. He received his PhD in materials science and engineering from Shanghai Jiao Tong University, but says that he was always drawn to writing comedy.
"I believe that science, art and technology are connected to each other. Humor is a bridge to connect them," he says. Ever since 2003, he has created more than 200 crosstalk skits on stage and has grown in popularity among local students. At 29, Li is a veteran writer and performer of crosstalk acts and skits.
Two years ago, Li set up the Xinyu Crosstalk Club. It's quickly flourished into a popular meeting spot for dozens of young, talented crosstalk writers and actors in the city. After a little more than a year, the club was ready to become a commercial enterprise in May.
Now, the club is looking back at a prolific two years that saw the creation of about 600 original crosstalk acts, which were all filmed and posted on video-sharing websites.
Most of the club's performances can be found on www.youku.com.
A batch of young performers have already risen to campus fame.
In 2014, the club's original crosstalk performance "Fellow Student" was widely acclaimed by the audience at Shanghai Jiao Tong University. It was also the act that led Li to abandon his career for uncharted, comedic territory.
"I never feel badly about my decision," Li says.
The home of crosstalk remains Beijing, where the comedy skits originated during the late Qing Dynasty (1644-1911).
Puns, allusions, quick and playful banter, sarcasm and mispronunciation of Chinese words are common techniques used in the back-and-forth dialogue between two actors. Beijing dialect is central to the comedy, as are jokes based on classics that are more common in the north.
It's typically considered entertainment for the older generation. Li and his group are breaking with this stereotype. By incorporating hot-button issues and buzzwords as well as colorful costumes, farce, mime, dance and music, their crosstalk has garnered a following among people usually under the age of 30. Many of the acts are inspired by news events, the latest campus gossip and whatever is buzzing on the Internet.
Li says that the Shanghai audience is young due to the campus-related topics they address, which also mirrors their own lives. In the future, he hopes to tackle more serious issues that concern society as a whole.
"Currently, acts about campus life take up a large proportion in our shows, but soon we will have acts that focus on wider social issues," Li says.
2016 will be busy for Li and his team. About 100 skits are planned, and all of them have to be filmed and posted online. A crosstalk festival is also in the works.
"Meanwhile, we create tailor-made skits for local enterprises who are in need of innovative acts for meetings and year-end parties," Li adds. "We are also planning to shoot a crosstalk film. The story will be told through a series of crosstalk shows — it will be fun," he smiles.
Discouraging maiden show
Li developed an affinity for crosstalk when he put together a skit with his classmates at middle school. The act made the audience laugh hard, he says, and yet the group wasn't awarded a prize because judges deemed the performance not traditional enough. Freestyling wasn't welcome.
"We were eliminated because our performance did not strictly follow the routines of traditional crosstalk … In the eyes of many judges, the tradition of old crosstalk masters and their performing styles, postures and routines weighs a lot more than content and originality."
His career hadn't even started, and yet Li already felt utterly discouraged.
Being disqualified for a performance he created with all his heart was so crushing that Li gave up on creating crosstalk skits. He still enjoyed the comedy, he says, but felt a mix of "love and hatred" toward crosstalk.
Years later, a fellow student at Shanghai Jiao Tong University encouraged Li to join his little crosstalk group, hoping that new members would save the fading art from completely disappearing from campus.
Traditional thinking that allows little room for creativity is still an issue. Crosstalk performers continue to be judged by how well they imitated the styles of the old masters.
"Time is passing, and after so many decades, some of the content that is being performed is outdated for today's audience," he says. In Li's opinion, sticking to what's already known isn't wise. His growing fan base among Shanghai's youth proves that he's on the right track. Creativity and original contents are on high demand.
"A big problem hampering the future development of crosstalk is the lack of originality," Li says. In his own work, Li leaves no room for plagiarism, an effort recognized not just by his audience but, increasingly, by some theater experts who believe that originality is one of the main forces that keeps art relevant.
Li is now an expert on crosstalk himself. He has published several academic books on crosstalk and used his background in science and engineering to develop a system that helps measure and track audiences' emotional reactions to the performances. That, he says, makes it possible for writers to revise their scripts to get the audience hooked. A successful show, he calculates, will make the audience laugh no less than 18 percent of the total time.
On January 16, Li and his team will present the 2016 crosstalk spring festival gala at Shanghai Jiao Tong University (Xuhui Campus). People who are interested can add the public WeChat account "xinyucrosstalk" to get free tickets.