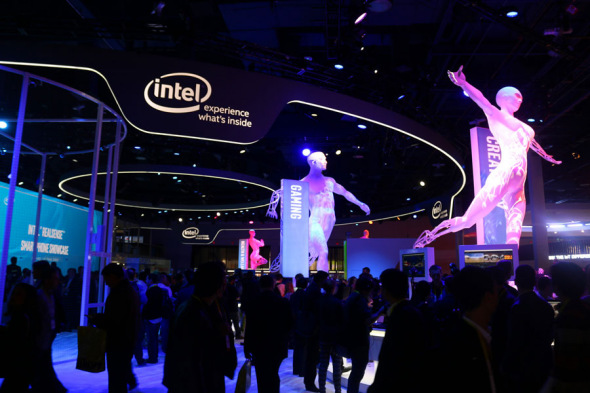 The photo taken on January 6th, 2016, shows the booth of Intel company at the 2016 Consumer Electronics Show (CES) in Las Vegas, Nevada, U.S.. (Photo: CRIENGLISH.com/Zhang Xu)
Chinese drone maker E-hang on Wednesday unveiled the world's first drone capable of carrying one passenger.
The electrically powered E-hang 184 was unveiled at the ongoing 2016 Consumer Electronics Show in Las Vegas.
The machine can carry a passenger up to 100 kg, for more than 20 minutes at sea level.
The technology presents the possibility of automated short-to-medium-distance everyday flights.
This year's event boasts the largest exhibit floor in the show's 49-year history.
Out of the 36-hundred exhibitors, more than 11-hundred are Chinese companies.
Chinese company Huawei is also at the show.
Chief Marketing Officer for the Huawei Consumer Business Group Glory Cheung stressed the company's emphasis on innovation.
"We are investing for the Consumer business group, about 70 percent of our head count is for the R&D. It's quite unique. It's a very R&D driven kind of company. So there are so many innovations."
Other major Chinese exhibitors include Lenovo, Haier, as well as E-commerce giant Alibaba, Chinese website Baidu and online content provider LeTV.