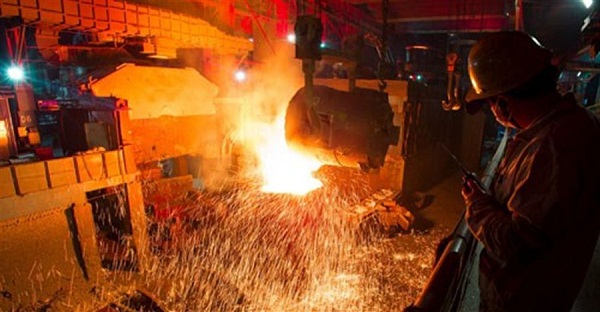 Hangzhou Iron & Steel Group shut its principal factory complex in Banshan in Yuhang District as part of city efforts to improve air quality.(Photo/Shanghai Daily)
Hangzhou Iron & Steel Group, the city's largest steelmaker, shut its principal factory complex in Banshan in Yuhang District as part of city efforts to improve air quality.
The company said it will consolidate its operations at its alternate site in the coastal city of Ningbo. Several thousand workers at the Banshan factory will be relocated or take early retirement.
The factory closure at the end of last month is expected to remove 7,000 tons of sulfur dioxide, 3,400 tons of oxynitrides and 3,000 tons of soot from the air over the next few years.
In 2014, the latest data available, Hangzhou recorded 154 days of hazardous haze, mostly caused by factories and vehicle emissions. The steelmaker was listed as one of the major culprits of air pollution in a municipal environmental plan that came into effect last May.
The closure of the factory comes amid a sharp downturn in China's steel industry, caused by a slower economy and overproduction.
Hangzhou Steel was established in 1957 as part of China's ambitious program to develop heavy industry. The state-owned company later expanded into other industries, such as real estate, tourism, logistics and mining. By the end of 2014, the group had 40 sub-companies with assets of more than 64 billion yuan (US$9.86 billion), ranking it 58th among China's top 500 manufacturers.
Zhejiang Province's steelmaking operations were mainly centered in Banshan and Ningbo. The Banshan site had the capacity to produce more than 4 million tons of high-quality steel a year, accounting for 99.5 percent of the group's steelmaking.
Demand for steel shrank 5.2 percent in the first eight months of 2015, leaving the nation's steelmakers with losses estimated at 18 billion yuan. The Banshan factory showed a loss of 409 million yuan.
The company suspended share trading from October 19, 2015 amid significant asset restructuring.
Hangzhou Steel has said it will move toward a more environmentally responsible mode of operation in the future.
Part of its Banshan site, which is not far from the Banshan National Forest Park, will return to local government control. There is talk it may be turned into an industrial tourism destination, akin to the present-day Phoenix Creative Park that was rejuvenated from an old cement factory.
The area already has a central park covering more than 30,000 square meters and is home to an international school. Plans call for Metro Line 4 to be extended to the site and a bus station hub is already under construction in the area.
The factory closure was welcome by local residents, who complained about the foul air it created. It also has been a boon to Banshan's real estate market. Developers are exploring possibilities for residential and commercial opportunities. Hangzhou Steel real estate affiliates Ziyuan and Dongling are expected to be involved in any development projects.
The government hasn't issued any urban renewal plan yet for the area. Industry insiders said the old factory site also might be considered for a new zone specializing in logistics services.